Obtain device and incident detail programmatically
Obtaining an API Key
7SIGNAL utilizes OAuth 2.0, the industry-standard protocol for authorization. Obtain an API key and secret through Mobile Eye by navigating to the Users icon along the left navigation bar, then clicking Manage Users.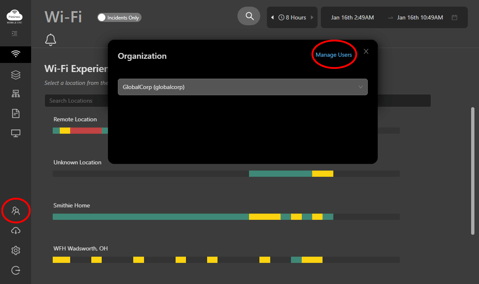 Then click the API Key icon along the left, and the Add API Key button at the top.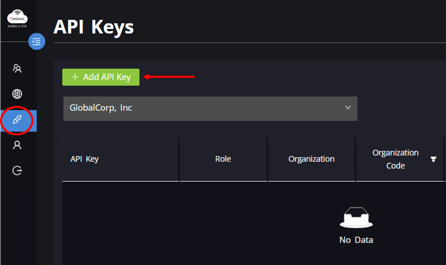 Select either Administrator or User and click Save. Users will not be able to make API calls to Configuration endpoints, once 7SIGNAL makes them available.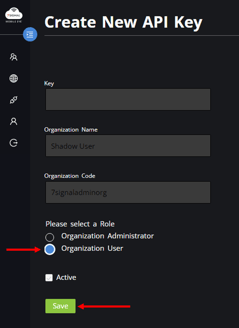 Copy and paste and save your API key and secret. You will use it in the token exchange request/response process to connect to the API.

Public Link to Online Documentation
https://api-v1.7signal.com/swagger-ui/index.html#/
Endpoints Available with Sample Output
| | |
| --- | --- |
| https://api-v1.7signal.com/eyes/ | Returns the organization name, total device count, and license summary. Sample output below. |
{
  "agents": {
    "organizationName": "7signal2",
    "deviceCount": 3,
    "licenseSummary": {
      "packageName": "ENTERPRISE",
      "totalLicenses": 2500,
      "usedLicenses": 2,
      "freeLicenses": 2498
    }
  }
}
| | |
| --- | --- |
| https://api-v1.7signal.com/eyes/agents | Returns detail for each device in the system. Results are paginated. |
{
  "pagination": {
    "pages": 1,
    "page": 1,
    "total": 3,
    "perPage": 250
  },
  "results": [
    {
      "id": "090e52c0-1429-4aad-bf70-ce650a2dfab8",
      "name": "CAMULLI",
      "manufacturer": "LENOVO",
      "model": "20QVS0FN00",
      "platform": "windows",
      "version": "10.0.22621",
      "driverProvider": "Intel - Intel(R) Wi-Fi 6 AX200 160MHz",
      "driverVersion": "22.170.0.3",
      "mac": "74:D8:3E:91:91:19",
      "lastSeen": 1673886395413,
      "lastSsid": "#corpnetwork5",
      "lastTestSeen": 1673886387000,
      "lastAgentVersion": "v1.19.0+59",
      "remoteIpAddress": "65.31.8.238",
      "numberOfTxSpatialStreams": 2,
      "numberOfRxSpatialStreams": 2,
      "lastDefinedLocationId": "bfc88029-c162-48c5-b27c-81cfe0c63842",
      "lastBssid": "a8:bd:27:87:e6:10",
      "localIpAddress": "192.168.0.139",
      "marketModel": "20QVS0FN00"
    },
| | |
| --- | --- |
| https://api-v1.7signal.com/incidents/agents | Returns a list of incidents that have occurred. Date/time range may be specified. Default range is the last 24 hours. |
{
  "range": {
    "to": 1673887213434,
    "from": 1673800813435,
    "total": 10,
    "duration": 86399999
  },
  "results": [
    {
      "id": "d7191d76-0be8-42e5-b500-96dffe59b75c",
      "startTimestamp": "2023-01-15T18:25:00.000Z",
      "asOfTimestamp": "2023-01-15T21:20:00.000Z",
      "endTimestamp": "2023-01-15T21:20:00.000Z",
      "timestampDeterminedToBeIncident": "2023-01-15T18:30:00.000Z",
      "organizationName": "7signal2",
      "type": "SEVEN_MCS",
      "location": "bfc88029-c162-48c5-b27c-81cfe0c63842",
      "network": "#corpnetwork5",
      "band": "5.00",
      "countImpacted": 1,
      "populationCount": 1,
      "thresholds": {
        "warningThreshold": 10,
        "criticalThreshold": 7,
        "successRateThreshold": 90,
        "minPopulationCount": 1,
        "minCountImpacted": 1,
        "minPercentImpacted": null,
        "minIncidentDurationMinutes": 5
      },
Sample Code (Python)
import requests
import json 

"""
First step in using 7SIGNAL API is to exchange your key and secret for a JWT token.
This is accomplished with an OAuth request
"""
auth_data = {
    "client_id": "62CAF473.your_key_here.XMXQS", 
    "client_secret": "fKKPuynq.your_secret_here.FlFjZupS", 
    "grant_type": "client_credentials", "scope": 
    "openid https://login.7signal.com/scopes/user.read https://login.7signal.com/scopes/user.admin"
}

auth_headers = {"Accept": "application/json"}
token_exch_response = requests.post('https://api-v1.7signal.com/oauth2/token', data = auth_data, headers = auth_headers)
token_exch_json_response = token_exch_response.json()

# This token can now be used for subsequent requests. Note the token will expire.
token = token_exch_json_response["access_token"]


"""
Once a token is aquired, it can be used to make calls to the API.
This is done using an Authorization header with a Bearer token.
"""
headers_incidents = {
    "Accept": "application/json", 
    "Authorization": f"Bearer {token}"
}
incidents_response = requests.get('https://api-v1.7signal.com/incidents/agents', headers = headers_incidents)
incidents_json = incidents_response.json()


# Pretty print the JSON response to the console
incidents_json_formatted = json.dumps(incidents_json, indent = 2)
print()
print(incidents_json_formatted)