August 2021 Release 8.2.3.0
Improved Topology pane makes Analyzer™ reporting easier to use and understand, with new nomenclature, powerful search, and simple checkboxes for filtering.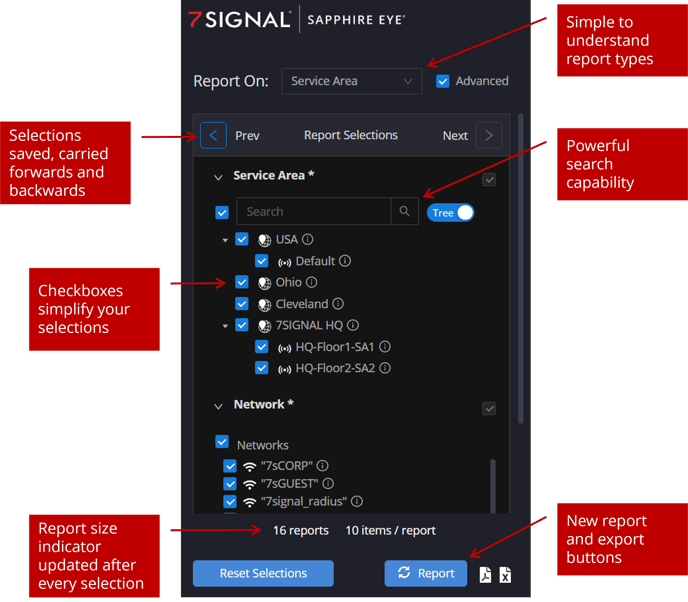 Table of aggregation name changes below:
| | | |
| --- | --- | --- |
| Previous Name | New Name | Description of Aggregation (grouping) |
| NWBandServ | Service Area | Network per band per service area aggregation |
| APEye | Access Point | Access point per Sapphire Eye aggregation |
| APGroup | Access Point Group | Access point group aggregation |
| NW | Network | Network (SSID) aggregation |
| n/a | Location | Location aggregation - NEW TO ANALYZER |
| EyeEth | Eye Ethernet | Sapphire Eye aggregation, Ethernet testing |
| EyeAnt | Eye Antenna | Sapphire Eye antenna aggregation |
| Eye | Eye Wi-Fi | Sapphire Eye aggregation |
| ChEye | Channel | Sapphire Eye channel aggregation |
| DestAP | Destination | Sonar endpoint per access point aggregation |
Less common aggregations now hidden by default. Check the Advanced box at the top of the pane to reveal.
The following aggregations have been deprecated...

DestEyeEth, Link, NWServ, NWEye, NWBand, NWBandServ, NWBandEye, NWBandEyeAnt, APEyeAnt, ChEyeAnt, QoSAP

Only selections that are relevant to the report at-hand are displayed.
Use new search functionality to find anything (Service Area, AP, Network, etc.)
Selections are saved and carried forward to the next report tab. You may also go back to a previous set of selections.
An additional 'generate report' button has been added to the bottom of the Topology pane, along with PDF and CSV export icons.
Report size indicator updates after each Topology selection and appears at the bottom of the Topology pane.
New top navigation menu - reordered to accommodate the most common troubleshooting workflows.

July 2021 Release 8.2.2.8
Meraki access point name identification
SSID names appear on automated reports
Ability to pipe packet capture data directly from a Sapphire Eye to a network drive
Various bug fixes and security enhancements
April 2020 Release 8.2.2
Public Key Infrastructure (PKI) Improvements
Support for new 7SIGNAL certificate (Eye's must have this installed prior to May 14 to maintain connectivity to Cloud)
Improved software signing capabilities
Other Enhancements
Easier to complete Eye software upgrades

Disconnected Eye status included in upgrade workflow – tells you what you need to get connected
Paused test status indicators for Eyes
OTA Mode Enhancements

Connection state notifications
Countdown timer for reconnection to server
Set test cycle durations

Supplicant output for WPA
Ability to disable alarm groups or individual alarms within a group
Automated Reports – ability to change order of SLA appearance
AP Naming – option to keep your AP name (and other manual edits) the same even if it is changed on the controller
DHCP Discover messages KPI added (helps identify Cisco bug)
Simplified command for showing system logs when SSHd into different Eye models
June 2019 Release 8.2
Sapphire Eye 2200
Support for 802.11ac Wave 2
Deployment
RPM based software installations and upgrades improves speed and simplicity of deployment. Use commands below:

Cloudsmith repository for devops
#yum install 7signal-Sapphire
#yum upgrade
Analyzer
Overall report generation performance improvements
Data Rates reports now show spatial streams, channel width, mcs, and 802.11 standard in use
Topology pane now shows disconnected Eyes
Macro KPIs (EyeQ) now available in Dashboard KPI dropdown selector
Alarms that are 30 days old now automatically purged
Configurator
Setup Wizard improvements

Will simultaneous setup 100 Eyes
Configurable signal strength and band setup wizard
LAN test now included

Automated Reports

Select the KPI's you want to see in the SLA report
Select time intervals

Use random MAC address
Configure multiple APs at once with new multi-select feature
Various bug fixes
Other
Control over Sapphire Eye LED (blink/no blink/off)
REST API now supports all KPIs