November 2023
Enhancements
Rename the report Client Adapters: Roaming Problems to Client Adapters Experience
Add a default sort of ascending 7MCS (worst on top) to the Client Adapters Experience report.
Change label "Wi-Fi Quality (7MCS)" to "Connection Quality (7MCS)" throughout the application.
Audit Log added to the Configuration portion of the application.
Please see https://www.7signal.com/info/audit-log for more information.
Issues Resolved
Fixes an issue where roaming tests would always fail when the SLA was modified.
6 GHz missing from alarm configuration.
October 2023
Enhancements
Android app, version 5.2.7, contains a small enhancement for EMM managed devices. If the app is managed by an EMM system (e.g. Workspace ONE), then the following controls will be hidden by default: "Auto-start on Boot", "Verbose Logging" and "Share Agent Logs".

To show or activate these controls so that they appear in the app's user interface, use the Android Enterprise Managed Configuration features within your EMM system to set the parameter named Enable_Support_Control to TRUE.
Please see https://www.7signal.com/info/android-deployment for more information.

Issues Resolved
Android app did not refresh its profile before each active test, as intended. If the app was connected to the same BSSID for an extended period of time and the profile was updated through the UI, the app would not refresh to the new settings. For example, the location would not get updated.
Under certain circumstances users could not activate or deactivate licenses for devices.
Organization Admins were unable to edit the "Enable Broadcast AP Name Discovery" setting, leading to an unintended constant display of "always show ON" for this setting.
The description for an alarm could not be updated.
September 2023
Enhancements
Architectural changes that make Mobile Eye faster and your Wi-Fi performance data more readily available. This means less waiting for your data, speedy troubleshooting, and rapid analysis. Aggregate data in Mobile Eye will appear up to 15 minutes earlier than before. This enhancement is due to an algorithm change allowing our data pipeline to output records periodically during the aggregate processing window, rather than solely at the end of the processing window.
Increase locations uploads to 10MB from 1MB.
Issues Resolved
Incidents only filter sometimes will show locations without incidents.
Display alignment issue when creating new tests.
Unable to set the default sonar when a default sonar does not currently exist.
Roaming report, SLA was calculated incorrectly.
Increase locations uploads to 10MB from 1MB.
Enhancements
Wi-Fi 6E support

Requires new Windows/Mac/Linux agent, version 1.22

Android app version 5.2.1

Ethernet detection - not testing (appears on the Connection Type timeline)

Cellular detection for Android - not testing

Restricted network detection (appears on the Network timeline)

VPN enabled/disabled (on System tab of the device's performance page)

Delete a device - license lock must expire first (pending delete, once per day) - there is no undo. No bulk delete, only one at a time. For Windows and macOS devices only, if connected to the cloud, a remote uninstall will be attempted.

For more information, visit our Tech Notes:

https://www.7signal.com/info/delete-a-device

Coverage detection improvements.

Separation of default tests and custom tests on the Configuration>Setup>Tests page.
July 2023
Customers who use Jamf for Apple device management now have the ability to disable/suppress the 'Allow Location' prompt when installing on MacOS.

Put the following command in the post-install script: login --disable-login-message
To re-enable the prompt run the command login --enable-login-message
Set individual SLAs for Roaming, Coverage, Congestion and Interference
June 2023
SLA Performance Circles on all reports

We've discarded the dots and their different sizes. Now, a colored ring around the SLA percentage gives you the information you need at a glance. SLAs are targets you set for good performance. The number inside the circle indicates your percentage of adherence to the target.

New color palette throughout Mobile Eye for better contrast and easy reading.

Added a second shade of green, in between dark green (100% SLA) and yellow. This means you will likely see less yellow and more light green than before.

Add nicknames from the Devices page
Wi-Fi Problems Timeline now open by default on device pages
May 2023
New Android app, version 5.1.1, that includes various fixes and performance enhancements.

Add the ability to suppress PII via configuration
Throttles profile requests to improve performance
Uses signal strength from scan data for more accurate coverage and roaming analysis
Properly reports agent version
Improve startup logging by adding more device info
Uses www.7signal.com instead of google.com when testing if connected to internet
Adds non-standard data rates to support customer environments (e.g. 192Mbps)
Adds number of TX and RX spatial streams to agent status
Waits until has valid org ID before starting measurement service
Agent for Windows, Mac and Linux, version 1.21 includes various fixes and performance enhancements...

Throttles profile requests
Changes title of pane in Mac installer to Permissions
Properly identifies 80211a/g Phy type on Windows
Adds non-standard data rates to support customer environments
Adds number of TX and RX spatial streams to agent status
BSSID deletion from Configuration > Locations.
April 2023
Modify/delete access point names and locations.
Add/modify nickname of any device in the Details section of its Wi-Fi performance page.
Anonymize data collected by Mobile Eye. Requires Customer Support to activate.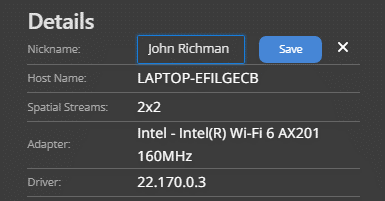 New MacOS agent, version 1.21.3 with includes small permissions modification to help with certain edge cases.
March 2023
Alarms configuration UI change - To increase usability, the look and feel of the Alarms portion of incident detection on the SLAs page has been improved. Now, you can add up to one thousand alarm notifications and easily search for them.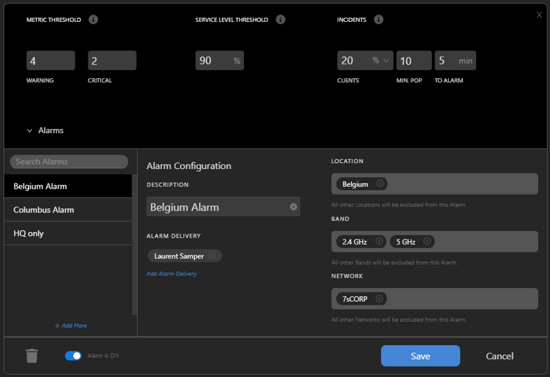 Ability to toggle off AP name discovery feature, so as to avoid conflicts with AP information that has already been imported.
Removed "light green" and made it "yellow" when calculating SLA.
New Android app (version 5.0) that now supports Android TV for monitoring the performance of set top boxes.
New IGEL version 1.20 that includes various fixes
February 2023
Various bug fixes, usability enhancements and user interface improvements.
Agent version 1.20

Includes MacOS location permission handling improvements.
Addresses Data Rate rounding issues leading to inaccurate 7MCS reporting.
January 2023
Incident detection and alarms configuration

Define an incident based on the percentage (or number) of Mobile Eye clients not meeting their SLA, out of a defined minimum population, for a minimum amount of time.
SLA metric used is Wi-Fi Quality (7MCS)
Default values: 50% of a minimum of 5 clients in the population, and the incident must last a minimum of 15 minutes. Lowest incident time that may be configured is 5 minutes.
Deliver alarms to the right people based on location, band and network.
Configure alarm notifications that may be delivered by email or webhook.

24 hour "Incident Monitor" accessed by clicking the "bell" icon in the upper right corner of any page.
Critical incidents will appear as red "bells" along Wi-Fi timelines.

Click bells along the timeline to reveal incident detail including,

Start and end time of the incident.
Chart of how the total client population performed throughout the duration of the incident.
Short summary of the incident.
The SLA values used for incident detection.

Mouse over "dots of concern" on the Client Adapters: Roaming Problems report to reveal performance detail.
New agent, version 1.19 for Windows and MacOS.

MacOS agent to address issues with asking users for location permission. Due to Apple restrictions, Mobile Eye may only ask for the permission once, after initial installation. If denied, users will not be asked again and must grant permission through System Preferences > Security & Privacy > Privacy > Location Services.
New utility that may be used by 7SIGNAL Support for additional troubleshooting.
December 2022
Various enhancements and improvements to nickname and hostname filtering, also 7MCS calculations.
EMEA2 Sonar (U.K.) now included in default list.
November 2022
New Mobile Eye Windows and Mac agents (version 1.18) with general performance improvements.
New Mobile Eye Android app (version 4.7) with support for Android 13.
October 2022
Cloud-side improvements and minor enhancements. Agent/app improvements, including...
MacOS, version 1.17

Improved reliability for requesting/granting of location permission
Enhancements to 7MCS Wi-Fi Quality calculation

Windows, version 1.17

Enhancements to 7MCS Wi-Fi Quality calculation
Android app, version 4.6.4 (available in the Google Play store October 7th)

Battery life improvements for unlicensed devices
Enhancements to 7MCS Wi-Fi Quality calculation
Improvements to status indicators on app UI
September 2022
Major modifications and enhancements, including...
Wi-Fi page (video)

Improved insight into Wi-Fi performance, by location "at a glance"
See where W-Fi experience problems are shared, broken down by location, network and band
Drill into Wi-Fi experience timeline for a location, to see SSID's experience represented in the tree map chart, organized by band.
Counts of device problems replaced with small/medium/large "dots of concern"
Platforms page (video)

Improved insight into Wi-Fi Experience (7MCS) and Voice Quality (MOS), and where problems are shared by client platform
The charts break experience down by client operating system, client make, model, Wi-Fi adapter and driver version
End to End page (video)

Improved insight into end to end application experience
Get ping, throughput, web download and voice quality performance at a glance, drill down into problems by location and network
Device page

New Wi-Fi Problems Timeline, based on 7MCS, indicates overall quality of experience for the device
Configuration page, SLA tab (video)

New service level configuration with ability to set and adjust compliance percentage targets
August 2022
Update and upload your locations and access point names. File size limit set to 10MB
Windows and MacOS agent 1.16 includes various bug fixes
Android 4.5 includes additional logging and various bug fixes
July 2022
Sonar now compatible with Docker containers
Download a list of AP names and locations in Mobile Eye
Android version 4.4 with new user interface and status indicators
June 2022
New System tab displays CPU, memory in use, and total memory. Readings occur in between Mobile Eye active testing.
Device page lists 'Remote Network' instead of external SSID names. This applies to any network not listed in Configuration > Networks.
Configuration > Locations now lists the number of APs per location
New Windows and MacOS agent, version 1.15, includes bug fixes only
New Android agent, version 4.3

Improved logging
Permission status now visible, placed in the Device Details section of the device's page
May 2022
Changes to the "Configuration" page - tests and thresholds are now on two separate pages (this is in preparation for setting alarms in a subsequent release).
The new "Service Level Thresholds" page below (previously referred to as Wi-Fi Experience Thresholds)
New "Tests" page below (previously referred to as Assign Tests)
Only includes the active testing interval
Minimum active test interval is now 10 minutes to minimize network load
Passive test interval will always be set to 5 minutes...

This is in preparation for "as fast as possible" capability, to be delivered in a subsequent release.
This is where 7SIGNAL will obtain passive scan results as fast as the operating system can deliver it, and varies by OS.
Report timeframe default is now 8 hours
Device page default view is 8 hours
April 2022
Packet loss, jitter and voice quality MOS for Android (requires version 4.2)
Sort devices by their monitoring status on the Devices page (first column)

Licensed devices will now crowdsource AP names / BSSIDs from your networks. Here's how it works...

Go to Configuration > Setup > Locations, select "Unknown Locations"
View BSSIDs or AP names discovered by your devices, but not yet assigned a location. You will only see BSSIDs and AP names for your condoned networks defined in Configuration > Setup > Networks
Select one or more BSSIDs or AP names using the checkbox control
Assign them to an existing location or create a new one.
Requires Mobile Eye version 1.13 or Android 4.2
April 2022 Security Notification Regarding Spring4Shell
Date and time incident began: April 8, 2022
Date and time incident ended: April 14, 2022 (planned at time of issued document)

Published Vulnerability:
A Spring MVC or Spring WebFlux application running on JDK 9+ may be vulnerable to
remote code execution (RCE) via data binding. The specific exploit requires the
application to run on Tomcat as a WAR deployment. If the application is deployed as a
Spring Boot executable jar, i.e. the default, it is not vulnerable to the exploit. However,
the nature of the vulnerability is more general, and there may be other ways to exploit
it.

Impact identified vulnerability:
• Sapphire Eye using version 4.3.2 no impact or risk.
• Sapphire Eye hardware not using Spring Framework.
• Mobile Eye web application not using Spring Framework.
• Mobile Eye Agents Using 5.2.3 (no risk not a web server).
• Production System tested for all Spring Framework products with no risks
identified.
• SIEM logs showed no signs of exploitation.

Resolution:
• Sapphire Eye will update to a more current version in Q2 or Q3 2022 as planned
in the technical roadmap.
• Mobile Eye Agent will upgrade to 5.3.18 by 4/15/2022 once tested to ensure no
new issues are introduced into Production.
• Mobile Eye Agent.
• No loss of data.
• No security breach or risk was introduced.

Procedural or Design changes planned:
• Continue to run vulnerability testing with 3rd party tools (per 7SIGNAL policy).
• Continue to monitor https://nvd.nist.gov/vuln/detail/cve-2022-22965 for future
update.
• Reviewed Incident with 7SIGNAL CTO.
March 2022
View and edit your locations and AP names (BSSID/AP name auto-discovery feature coming in a subsequent release)
For customers who currently have AP names and locations, here's how it works...
Locations appear in the left column and AP names in the center column.
Select "Unknown Locations" to view BSSIDs and APs not yet assigned.
Select one or more BSSIDs or AP names using the checkbox control.
Assign the BSSIDs or APs to a location. Start typing the name of a new location and add it if the one you want isn't in your list.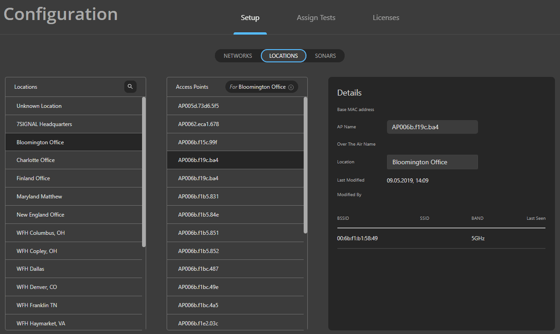 Once BSSIDs or APs are assigned, you may click that location, then click any AP to reveal its details in the right column. Here, you have the option to rename the AP to anything you want.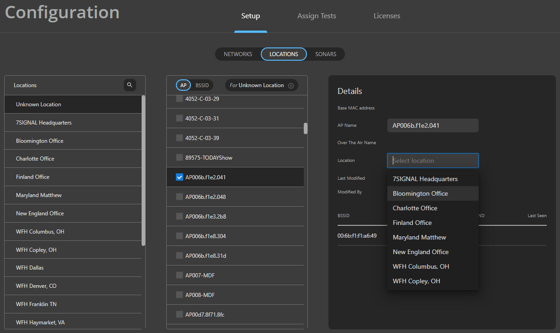 February 2022
Wi-Fi Quality (7MCS) support for Android devices (will require app version 4.1 and minimum Android version 8.0).
When adding or modifying new tests on the Configuration > Assign Tests page, a new option to select all Remote Networks is provided. This improves the administrator's control over which networks should test to which end points.
Minor changes to text headings on the Configuration > Licenses > Summary page to improve clarity.
Layout change for the Configuration > Setup page where My Networks and Sonar end point configuration are now on two separate sub-tabs. This is in preparation for the addition of additional configuration features in the coming months.
January 2022
Improved datetime format for devices tables, to improve filtering and sorting.
Added 'Permission Status' field for MacOS to Device Details section. Status definitions are below.
Not Requested - Mobile Eye has not yet prompted the Mac user for permission
Granted - the user has granted the location permission to Mobile Eye
Denied - the user denied the location permission to Mobile Eye
If the status field is blank then the device is on an older version of Mobile Eye and should be upgraded.
Minor bug fixes.
December 2021 Agent Release 1.12.1+51
Minor fix for issue effecting reporting of a small number of MacOS and Windows agents.
December 2021 Release 2.39
Flexible licensing allows admins to install everywhere, then activate and deactivate device monitoring. Frequency of activate/deactivate capability is a licensed feature. Watch the video below for more details and a demonstration.
New color palette improves contrast and readability.
Updated calendar control with time-scrolling feature.
Device search capability added to Dashboard and additional web pages.
Filtering and search capability added to all columns on Device page
Admin icons separated from reporting icons along left navigation bar.
Windows and MacOS agent release 1.12 with various bug fixes.
Android app release 4.0.0+6025 with support for new licensing architecture and Android API 30, plus support for channel and chart data.
December 2021 Agent Release 1.11
Additional support for new architecture and various bug fixes.
October 2021 Agent Release 1.10
Supports new architecture and database structures in the cloud.
September 2021 Release 2.38
New agent, version 1.9 for Windows, MacOS and Linux
Improved detection of access point names that are broadcasted.
Various performance improvements and bug fixes.
New Android app, version 3.1
Various performance improvements and bug fixes.
July 2021 Release 2.37
Enhanced interference detection for all access point manufacturers. This change unlocks the different BSSID schemes for different AP manufacturers and improves Mobile Eye's ability to detect multiple BSSID's on the same access point.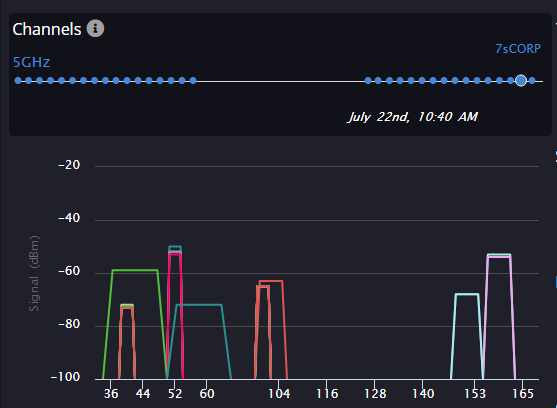 June 2021 Release 2.36
MIST Systems access point name identification
Voice quality monitoring for Windows (includes packet loss, jitter and MOS)
7MCS Wi-Fi Experience Score for Windows and Mac
Windows agent 1.8 with support for voice quality monitoring
Mac agent 1.8 with design changes that increase stability and reliability of MOS testing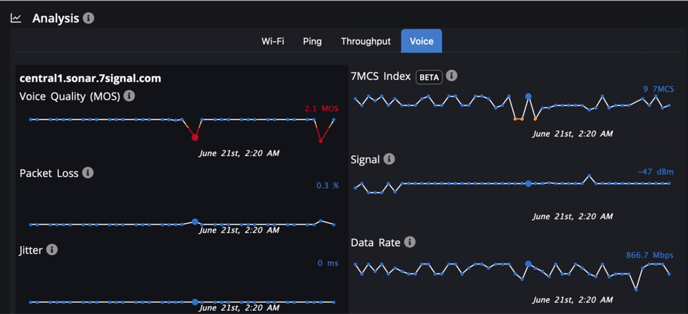 May 2021 Hot Fix
For Macbooks that stop reporting data due to a software bug. Agent version is 1.7.4.
April 2021 Release 2.34
Access point name display in Roaming History, along with good/warning/critical nomenclature.
Role based access control. Only named Administrators will have access to see and change configuration settings. Administrators will also be able to more easily add additional users to their organizations.
Rounding measurements to the nearest whole number instead of taking them out to one or two decimal places.
March 2021 Release 2.33
New spatial streams report
Report generation optimizations
Timeline will indicate gray when a test was run, but the event did not apply to a metric
All target tests are listed/shown when clicking into the End-to-End timeline
February 2021 Release 2.32
Improved visual contrast of chart data
Spatial Streams column added to 90 Day Inventory report
November 2020 Release 2.30
Spatial Stream Discovery
Wi-Fi spatial streaming is a transmission technique used in MIMO wireless communication to transmit independent and separately coded data signals, so called streams, from each of the multiple transmit antennas. This results in the space being reused, or multiplexed, more than one time.
For example, a two stream device (2×2) can transmit and receive twice as much data as a single stream device (1×1). Understanding device capabilities is a key part of overall Wi-Fi performance.
Big Sur & Linux Support
Reach out to us regarding Linux support. There are small differences between distributions that effect deployment.
Mobile Eye Agent, version 1.7.0
Added support for Linux, as well as support for MacOS location permission (required by Apple).
Mobile Eye Agent, version 1.7.1
Upload throughput bug fix.
Troubleshooting Content
Built-in to the Device page. Includes only basic troubleshooting information, not advanced at this time.
October 2020 Release 2.29
Root Cause Zoom-in
Click on Problem Timelines for devices to zoom-in to all the root cause detail.
Click on problem counts to zoom-in also.
August 2020 Release 2.28
Android Improvements
Circumvents Android's Doze feature so as not to get throttled
For EMM/MDM deployments:
Auto-grants permissions
Inputs your Organization ID
Auto-launches on the device in the background
Tested on SureMDM (using the Google Play EMM API) and Workspace ONE (AirWatch)
Device Page
Coverage Problem Timeline tied to Signal Strength setting
Fixes
Wrong device counts on the Device page
Show All clients link fixed on Wi-Fi Problems by AP reports
July 2020 Release 2.27
Device Page Improvements
Problem Timelines replace event counts and appear along the left
This new view allows you to see problem trends over time
Timelines include error rates and conditional color formatting to indicate problem severity
Status colors increase from 3 to 5 to better gauge severity
Green, light-yellow, yellow, orange, and red
Click on colored slices along the timeline to explore problems in detail
Default view changed from 30 days to 7 days
June 2020 Release 2.26
"See" Your Noisy Neighbors
90 days of noisy neighbor data stored in the cloud
Export channels data with CSV file download
Quickly identify overlapping channels causing interference
Since channel widths are not reported by Android OS, this chart will not appear when examining Android devices. However, the list of neighbors along with the signal strength and channel number will appear.
Also in this release: External IP address with Whois link added to device metadata to easily identify Internet Service Providers.
May 2020 Release 2.25
"Noisy Neighbor" Interference Detection
New channels table on device page lists interfering APs or routers for work-from-home users.
List includes network name, signal strength, channel, and channel width if available.
Sort by signal strength to easily identify the noisiest neighbors.
Sort by channel to quickly identify co-channel or adjacent-channel interference.
Reports
Client Adapters: Roaming Problems report now lists all adapter/driver combinations, including those with no problems. This helps you easily identify the best performing configurations.
From the report, download a CSV file listing clients who potentially need different drivers.
Device Page
Removed overall license count from this page and moved it to the upper right corner of the Configuration page.
"Out of date" message will appear in the upper left corner of the device page for individual clients that were unable to auto-update or were prevented from auto-updating.
New Windows/MacOS Agent, version 1.6.8
MacOS VPN support for OpenVPN, Cisco, Palto Alto, and f5 Networks.
MacOS support for auto-uninstall when they belong to a special troubleshooting license group.
Windows VPN support for f5 Networks.
7SIGNAL Accounts for Identity Management
To be used for identity management when SSO is not an option.
Includes rules to ensure password strength and support for self-service password reset.
April 2020 Release 2.24
Manage Multiple Departments/Organizations
Separate your license count between different departments or organizations and toggle between them for easy management.
Additionally, assign certain team members to manage one department/organization or the other.
Great for Managed Service Providers and Help Desks.
Set Agent Uninstall Time in Days
Software will automatically uninstall from laptops after a management-defined number of days between 1 and 90.
Initial support for Windows only, macOS not fully supported yet (Catalina).
Perfect for organizations with Help Desks tasked with assisting BYOD users.
Requires additional licensing.
VPN Compatibility
Mobile Eye will now measure Wi-Fi performance when your client is connected over a VPN connection.
Initially compatible for Windows with OpenVPN and Cisco AnyConnect. However, more VPN clients may be supported. Let us know which VPN client you use.
Requires Mobile Eye agent update, which should happen automatically for agent versions 1.5.37 and above.
Reports
On the "Wi-Fi Problems by AP" reports, you may now drill into a list of every client having a problem, for the time range selected, by clicking the "Show All Clients" link.
Android App version 2.4
Branding refresh
No longer requires GPS
Gateway ping test
February 2020 Release 2.23
Reports
CSV export capability added to additional reports
CSV exports include warning/critical problem columns
January 2020 Release 2.22
New Reports with CSV Export
Wi-Fi Problems by AP (both 2.4 GHz and 5 GHz)
Client Adapters: Roaming Problems
End-to-End Performance Problems
December 2019 Release 2.21
Device Page
A list of all your devices appears by default
List may be filtered by timeframe based on "Last Seen"
Columns are sortable
Device detail page: Channel Utilization and Client Count moved to Connection column for easier correlation with performance metrics.
November 2019 Release 2.20
Time Selector
New quick-select options available on the time selector / calendar control
Options include 1h, 2h, 4h, 8h, 1d, 3d, 7d, 30d
Wi-Fi Page
Co-Channel and Adjacent-Channel Interference problems added (may also be referred to as Wi-Fi interference)
Problem Pop-up
New pop-ups added for Co-Channel and Adjacent-Channel Interference. Wi-Fi interference is detected when…
A client is connected to an AP on a channel that is shared (or partially shared) by a neighboring AP, and the neighbor's signal strength is loud enough to be heard by the connected client.
The problem turns critical when the condition results in high channel utilization and slower throughput.
Devices Page
Co-Channel and Adjacent-Channel Interference added to Wi-Fi Problems bar
Device Details/Driver History shortcut link added to upper left corner
Configuration Page
Added ability to ping all gateways can now be toggled on/off per SSID
Added ability to ping all Sonars can now be toggled on/off per SSID
Added the ability to toggle ping on/off for Web Download targets
October 2019 Release 2.18
Configuration Page
Toggle between testing 'Every Wi-Fi Networks' or just 'My Wi-Fi Networks'
Assign networks to specific tests
Video below demonstrates these features. View in full screen mode for the best experience.
Administration Page
Found at https://auth.7signal.com
Reskinned with 'Dark UI'
Agent (v1.6.1)
Windows installer updated to support .NET 4
Command window pop ups gone during installation
Greater granularity and accuracy of reported signal strength, best neighbors, channel count, channel utililization
September 2019 Release 2.17
Platforms Page
Click on red outer rim of the Sunburst and view a report of devices and their roaming issues correlated with throughput.
Devices Page
Network Client Count and Network Utilization now listed in the Analysis column. This appears when QBSS is turned ON at the WLAN controller.
Connection Type now listed in the Connection column. Also requires QBSS.
Configuration Change History link now appears in the Details section at the bottom of the page. Tracks changes to the following:
OS Name and OS Version
WLAN Adapter and Driver
Configuration Page
Rearrangement of the controls on the page for better readability.
August 2019 Release 2.16
Wi-Fi Page
New vertical orientation of locations and client problems to improve flow and readability
End-to-End Page
New vertical orientation of locations and client problems
Added Throughput and Web Download metrics to 'Problems by Client' bar
Configuration Page
Network Control moved to Setup section
Devices Page
Combined Roaming and Wi-Fi Analysis tabs for better usability and faster correlation
Problems bar divided into two, 'Wi-Fi Problems' and 'End-to-End Problems'
Web Download metrics added to 'End-to-End Problems' bar
Agent Version, as well as user-friendly names for device OS added to Details section
Problem Pop-up
Channel Utilization and Client Count added to Congestion pop-up box
Other
AP names will auto-populate for most access point manufacturers
July 2019 Release 2.15
End-to-End Page
The Ping page is now the End-to-End page and it includes UL and DL Throughput metrics.
Devices Page
Problems bar now includes the following new metrics:
Ping Connectivity
Ping Latency
Download Throughput
Upload Throughput
Configuration Page
Now you can assign different locations to run active tests against different Sonars that align with your geography. Here's how…
Click to new Sonars button in the upper right corner of the Configuration page
Click the + sign to add a new Sonar
Give your Sonar a unique name, add its hostname or IP address
Check the location boxes
Clients identified in the locations selected will perform active tests against this Sonar.
If you do not have locations listed, then please fill out this form
http://go.7signal.com/locations
It may take 24 hours for newly added locations added to propagate
For new or "Proof of Concept" systems, add a 7SIGNAL cloud Sonar and set it as the default, otherwise, no active tests will run
June 2019 Release 2.14
Ping Page
Added list of problems by client, showing connectivity and latency problems.
Devices Page
Added status bar revealing the problems captured for the client device, for the time period selected.
Problems listed: Roaming, Coverage, Congestion, RF Problems (interference) , Connectivity, Latency.
New 'See Clients and Their Problems' link in the Problems bar will reveal all problems for all clients.
Sort by any problem by clicking the column heading.
Map
Toggle to satellite view
Added zoom functionality
Reports
Changed order of reports so that the most used are on top
Client adapters report now use throughput for its performance metric
New Client Platforms Inventory report lists unique device type with no performance metric column
May 2019 Release 2.13
High Contrast User Interface
Modern styling and redesigned for easier reading
All global navigation has moved to the left side
Filters now appear on the upper right
Agent (v1.5.37)
Auto-update for both Mac and Windows. Requires a new version that you will push to your devices. Ensures you always have the latest fixes and enhancements.
Packet Loss, Jitter, and Mean Opinion Scoring (MOS) for measuring voice quality. For Mac only at this time.
Dashboard
All dashboard metrics now describe number of devices impacted rather than number of samples in or out of thresholds
Bug fix: Ping SLA Issues (made event based)
Ping Page
Introduced two new problems to the ping page's report: ping connectivity and latency
Reports Page
New make/model "Client Adapters" report.
Since adapter/driver pairs are often used across makes and models and the platform/make/model is typically easier to infer from the adapter name, now it is easier to find adapter make/model problems since each pair only appears only once.
Devices Page
Three column format for less scrolling
New Signal to Noise (SNR) graph, for MAC only because only Mac provides Noise
Configuration Page
Save button appears in the upper right corner
Other
Invisible, but valuable:
Collecting, but not yet using, most relevant beacon information elements from scan data
AP names from most major vendors
Network capabilities e.g. network mode (n, ac, HT, VHT etc.), QBSS, max rates
April 2019 Release 2.12
Wi-Fi Page
Introducing Wi-Fi events. An event is when 7SIGNAL flags a condition out of compliance with thresholds set for good Wi-Fi performance. A condition is a confluence of Mobile Eye metrics, that when analyzed together, point to the root cause of a poor Wi-Fi experience. For example a "coverage" event is when a device's signal strength is low and there is no neighboring access point with a better signal to roam to. These events bubble to the surface specific issues seen on specific devices. Events now tracked include:
Roaming
Coverage
Congestion
RF problem (interference)
New three-column format
Click red and yellow areas on the Wi-Fi Performance Timeline (left column)
Problems by Location (center column) will populate a tree-map where the size of the boxes is governed by the number of samples taken at each location.
Problems by Client (right column) lists, by host name, those clients that have experienced Wi-Fi events
Click the client name for full detail
Click the event number to page through the individual events captured.
February 2019 Release 2.11
Login
New login screen for improved visibility.
Dashboard
NEW! A total overhaul to improve usability. At a glance, quickly determine the following…
Wi-Fi issues, shown as the percentage of samples where devices report low signal strength or data rates.
Platform issues, shown as the number of sticky devices reporting roaming problems.
Ping issues, shown as the number of times a ping target was unreachable.
Larger map with dots in locations, not rectangles. Subsequent releases will introduce more map interactivity.
January 2019 Release 1.17
Ping Page
NEW! Appears as a top navigation menu item.
Lists all targets by host name or IP address.
Measures ping success rate service level compliance percentage along a timeline for the previous 24 hours.
Clicking along the ping timeline will reveal location data in the form of a treemap.
Wi-Fi Page
Welcome page removed.
Location treemap will appear when time slice is selected from SSID timeline.
Device Page
Roaming history now shows channel and band along with BSSIDs.
Other
Wi-Fi, Platform, and Ping pages are color coded for enhanced readability.
Measurements/status are now highlighted on charts for better visualization.
Treemap size was reduced.
Roaming troubleshooting content was updated for readability.
December 2018 Release Version 1.15
Wi-Fi Page
Timeframe selector on the timeline chart
SSIDs ordered from bad (on top) to better cases
Samples out of range split by data rate and signal strength on Wi-Fi Performance Report
Bug fix: Location and SSID filters are kept on the path: treemap chart> Wi-Fi Report > click BSSID > click Client Roaming Report for this BSSID
Device Page
Gateway connectivity and latency charts moved from Wi-Fi to Network
Reports Page
New reports order on the drop-down menu
Not Visible Enhancements
Auto refresh every 5 minutes for Wi-Fi and Platform page
Improved error handling