The Sapphire Cloud controls Sapphire Eye sensors and stores measurement results to a database.
Sapphire Eyes connect to https://redirector.7signal.com (DNS port 53), where it identifies the customer's cloud instance.
The redirector connection is only used during initial connection.
Sapphire Eyes will connect to the cloud and be added to the system topology.
The Sapphire Cloud Carat sends test profile information to Sapphire Eyes.
Sapphire Eyes authenticate and associate to Wi-Fi access points.
Sapphire Eyes test against Sonar for throughput and voice quality testing, plus other configured endpoints.
Sapphire Eyes disconnect from Wi-Fi access points before uploading test results to the Sapphire Cloud.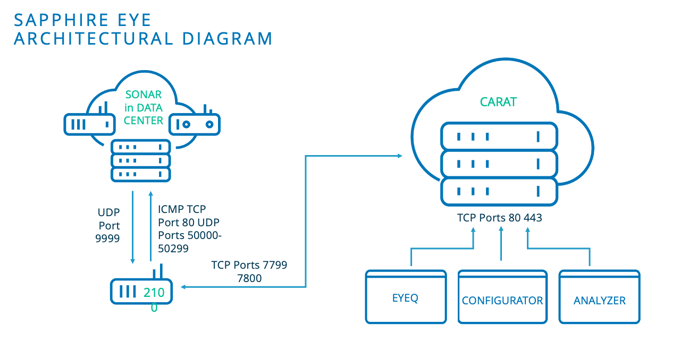 Components Overview
Sapphire Eye
802.11ac wave 2 4×4:4
U.S. and E.U. patented Wi-Fi performance sensors that continually monitor client connectivity, authentication, IP services, and the quality of Wi-Fi experiences. In total, Sapphire Eyes collect data for over 600 key performance indicators.
Unlike any other sensor in the market, it's unique directional antenna design allows one Sapphire Eye to connect with 4 to 6 access points.

Sapphire Eyes run on Power over Ethernet.
Every Sapphire Eye is capable of 2.4GHz and 5GHz spectrum analysis and remote packet capture.

Sonar Endpoint
A virtual machine or appliance strategically placed anywhere on your LAN or WAN that Sapphire Eyes and Mobile Eyes use for throughput, packet loss, jitter and VoIP testing. Eyes support connecting to an unlimited number of Sonars.
EyeQ
An easy to use, web-based dashboard for viewing Wi-Fi key performance indicators and measuring them against SLA compliance. These macro-KPIs are Connectivity, Authentication, IP Services and Quality.
Analyzer
A web-based user interface for Wi-Fi experts providing 600 key performance indicators and incredible detail regarding access point, client device and RF analysis.
Configurator
A web-based user interface for configuring new Sapphire Eyes, Sonars, test profiles, and proactive alerts.
Carat Server
Legacy name for Sapphire Cloud. 7SIGNAL's Wi-Fi performance management engine. Directs Sapphire Eyes over encrypted communications to run configured test profiles.