Sapphire Care™
Sapphire Care helps ensure the Wi-Fi network continues running optimally. It's a quarterly Wi-Fi health and wellness report provided to you by our team of certified Wi-Fi network administrators. It also provides you a trending analysis and list of recommendations for Wi-Fi improvement, if applicable, and includes the three main components below.
Network Connectivity - This is the first and most important question we will answer for you. We'll examine access point availability, authentication, DNS and IP services.
The Wi-Fi Experience - Is it slow or fast, choppy or jittery? Wi-Fi experience testing includes throughput, packet loss, latency and jitter testing to endpoints you've specified.
Recommendations - The most valuable portion of the Sapphire Care report. After identifying "the why," 7SIGNAL will provide you with the detail and steps you need to address issues uncovered.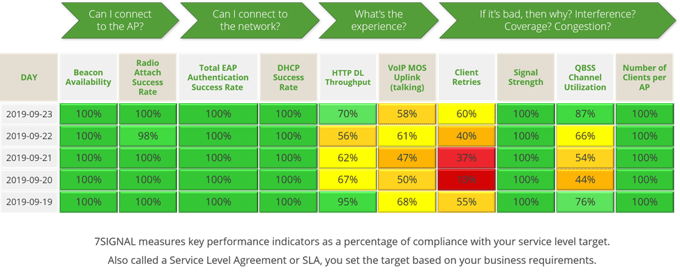 As the number of Wi-Fi clients added to the network grows each year, your environment changes. Trends may be spotted in advance allowing network engineers to take a proactive approach to Wi-Fi network management, thereby assuring a quality experience in advance of end-user complaints.
WLAN Optimization
An optimization project systematically roots out wireless LAN inconsistencies and keeps the network performing at a peak level. We will isolate issues, resolve them and implement key success criteria along with service level goals for monitoring your Wi-Fi network and maintaining it.
Process Phases
Installation – Optimization services can only be provided to areas where Sapphire Eyes have been deployed and properly configured.
Data Collection – Our teams will work together to define service level goals, which determines the key performance indicators (KPIs) to measure, which in turn drives the specific test plan to perform for proper baselining. We will also ask you to provide site specific information, such as your WLAN controller model and version, RF parameters, software versions, floor maps, antenna information, etc.
Analysis – We will review the data collected in detail to identify issues and trends around the KPIs identified that are affecting the end-user Wi-Fi experience.
Recommendations – Based on the above analysis, a detailed list of specific changes within the environment is presented to you as part of the optimization plan.
Deployment – Based on the recommendations, a deployment schedule is created with specific actions to be taken. These recommendations are executed by the customer's staff or WLAN service provider. Changes are made deliberately and sequentially to properly measure and verify the effectiveness of each recommendation with a maximum three change rounds.
Verification – After each step in the deployment plan there will be a corresponding verification step to ensure the changes have had the desired effect before moving on to the next recommended step in the process.
Certification – Once the Wi-Fi network has been optimized for peak performance, 7SIGNAL will certify the network environment. This will provide a new baseline performance level. The certification includes a final report with our observations over the course of the entire project, a change history, as well as a final summary of the results achieved.