Get 7SIGNAL alarms sent to a Slack or Teams channel with these simple instructions.
Slack
Go to https://api.slack.com/apps to create a new app and name it 7SIGNAL Alarms.
Once created, click to add the 'Incoming Webhooks' functionality.
On the Incoming Webhooks configuration page…

'Activate' the feature by clicking the toggle switch.
Then click 'Add New Webhook to Workspace' to continue.

If you are logged into Slack, you will be directed to your workspace
Now choose the #channel where you want the alarms to appear.

Microsoft Teams
Navigate to the channel where you want to add the webhook and select (•••) More Options from the top navigation bar.
Choose Connectors from the drop-down menu and search for Incoming Webhook.
Select the Configure button and provide a name.
The dialog window will present a unique URL that will map to the channel. Make sure that you copy and save the URL—you will need to input it into the Sapphire Configurator (see below).
Select the Done button. The webhook will be available in the team channel.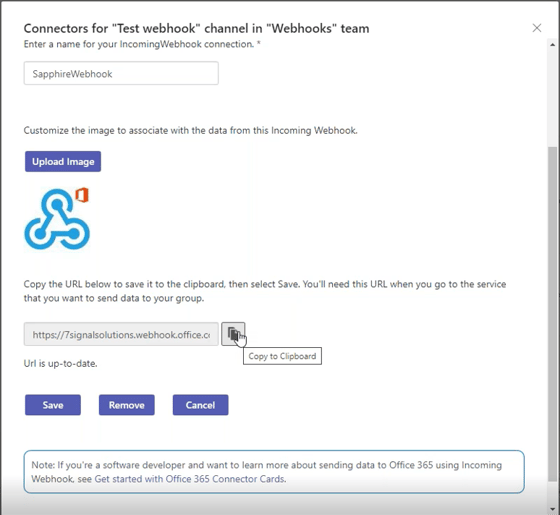 Sapphire Configuration
Copy the Webhook URL from Slack or Teams
Then, login to the 7SIGNAL Configurator and go to…
Manage > Alarms > Webhook Forwarding
Right-click on 'Webhook configurations' and select 'Add alarm webhook configuration'
Type in a name for the configuration then paste the Webhook URL in the field provided.
Check the 'Slack webhook' box to activate
Check the alarm states for which you want messages
Check the alarms you want to receive from the list
Click the 'Test' button, then 'Save' button
Go to your Slack channel to ensure you have received the message from 7SIGNAL.