Deploy to thousands of devices simultaneously.
Click the Downloads button from the left navigation menu in Mobile Eye for the latest version. After Mobile Eye is successfully installed on any device, go to Configuration > Licenses > Unassigned to find it. Check the box to the left, then click the Activate button. Within 5 or 10 minutes you should see your first data points for your device.
SCCM
Network administrators may perform remote, quiet installations of Mobile Eye on Windows devices with Microsoft SCCM (System Center Configuration Manager). Below is a sample script for installing a Windows MSI file from the command line. The script allows you to pass in the organization ID variable during install.
Before installing, you must have your organization's unique ID. Your organization ID is a special code that maps your devices to our cloud. It MUST come from 7SIGNAL.
msiexec /i 7signal-Mobile-Eye-Agent-Win-1.20.1.61-production.msi ORGANIZATION_ID=yourOrgID /qn
Intune (Microsoft Endpoint Manager)
When you add Mobile Eye as a Win32 app to Microsoft InTune, you can use an install command, like above, to complete the process. But first you must prepare the app by using the Microsoft Win32 Content Prep Tool.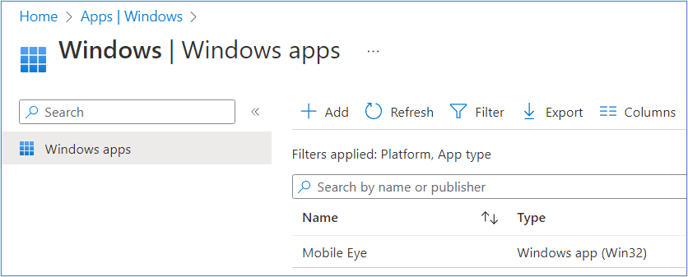 Below is an example of the properties of the Mobile Eye Win32 app once it has been configured in InTune.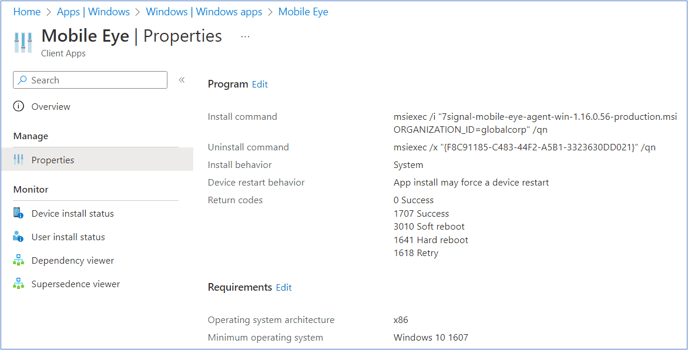 Self-Service Installation
Login to your Mobile Eye account and click the downloads button along the left navigation bar. After downloading, double click the file to launch the Mobile Eye Setup Wizard.
The first screen of the setup wizard is the most important. You MUST enter your unique Organization ID so that your Wi-Fi performance data is directed to your instance in the cloud.
Your Organization ID is in the 'Welcome to Mobile Eye' email you received from 7SIGNAL Support.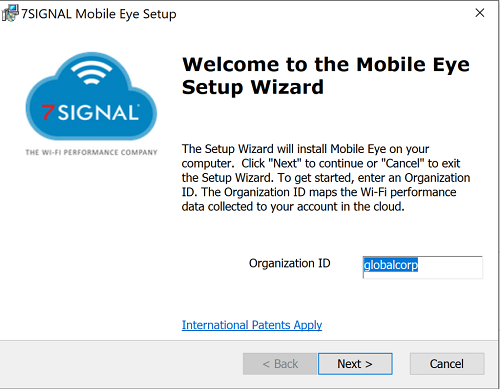 After Installation
Next, you'll want to verify that you can see the device's Wi-Fi performance data by logging into Mobile Eye and clicking the Devices menu along the left navigation bar.
It generally takes about 5 or 10 minutes for the first data points from the client to appear. However, If you do not see the client device in the list, then click here for troubleshooting.
Uninstalling
You may use the traditional Add/Remove Programs method, however, for remote uninstallation it may be easier to use the command line. Use the following Powershell commands or compile them into a script and push out to a group of Windows devices with SCCM or another endpoint management tool.
$ME = Get-WmiObject -Class Win32_Product | Where-Object -Property Name -eq -Value "Mobile Eye"

$ME_uninstall = $ME.LocalPackage

msiexec /x $ME_uninstall /qn