Blog
Wi-Fi Dirty Jobs Part 2: Industrial Job Site Best Practices
03/15/2023
Industrial Wi-Fi deployment is an entirely different animal.

Last time, Scott McNeil provided insight into conducting Wi-Fi analysis of industrial sites and their unique challenges. In part 2, entitled Industrial Job Site Best Practices, Scott discusses basics, tips and tricks for industrial Wi-Fi deployments.
After analysis comes deployment, and because the industrial environment is so different from any other, the emphasis isn't just on the equipment used but on an overall awareness of the ecosystem. It's not just about 802.11 – at the center of industrial Wi-Fi are WirelessHart and ISA100, which are both 802.15.4-based.
Rather than getting into the weeds, this article takes a high-level approach. There's a lot to pay attention to in industrial Wi-Fi deployments that aren't just about Wi-Fi.
Understanding the basics
WirelessHart and ISA100 are both 802.11802.15.4-based and because you know how 802.11 interacts, you'll be familiar with layer one and layer two MAC addresses. Once layer three is reached, everything above that will be handled differently than you may be familiar with. Knowing the specifics of every piece of proprietary software isn't necessary, but what is required is an understanding of the basics and recognizing the modulation of these two protocols.
Dealing with non-Wi-Fi technologies means you'll lose some essential troubleshooting tools. You won't be able to pick these up on the Wi-Fi scanner on a phone because they are not 802.11 structured. No matter what's used, you're looking at a completely different communication structure. Heat maps won't work, so proper troubleshooting tools must be used.
The importance of spectrum analysis
Spectrum analysis lets you look at the raw RF to troubleshoot deployments. The client has stated that wireless is terrible in one area, but you can't figure out why because you can't get a packet capture. It's not that kind of structured communication. You can't use your phone to find out if you're eating up all these channels because it's not that structured communication that your device is tuned to, so you do not see the results of any of that. As Scott mentioned, he ran into this very problem at a parts warehouse at a heavy industry facility.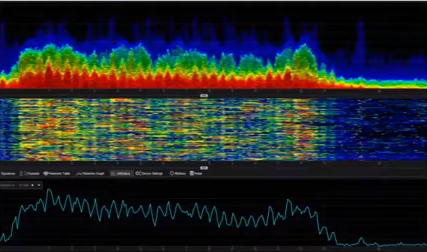 Nothing showed up as other traffic or cross-channel interference because the network wasn't 802.11 based. The G2 picked up some non-Wi-Fi-based interference, indicating that a spectrometer was needed. It clearly showed what looked like frequency hopping.
It turned out there was a wireless camera system running throughout the warehouse. The warehouse facility had 12 wireless cameras running on a frequency hopping spread spectrum, and everything was maxed out at 16 DBI. It was eating up all the airtime in 2.4. It was well over 50% across the usable spectrum, but 802.11 devices saw it as heavy background noise.
The importance of spectrum analysis cannot be overemphasized: it was the only way to find the problem.
Get familiar with industrial wireless devices
When it comes to industrial wireless devices, gateways, and industrial Wi-Fi routers, the only difference is that they're built for the environment. They have steel casing and are sealed to handle higher heat.
Something else to consider is how it's powered. Some industrial Wi-Fi devices are dual-powered, giving you the choice of POE or DC power (usually 12 to 14 volts). So you have to hardline this along with other Din Rail-mounted equipment.
These devices are designed to fit in Din Rail cabinets and are entirely different animals. There may also be an IO radio specifically designed for industrial communications. There is no web interface; it's all configured on the dial front, using a proprietary protocol, although it is based on frequency hopping.
There are many different types of hardware to be familiar with regarding radio types, how they install, and what powers them.
Get to know the environment
For the success of an industrial deployment, you must understand what your client uses it for and what the process is. For example, in a paper-making facility, you will find wood processing, chemical processing, slurry processing, and an on-site power plant.
Knowing what is happening inside the facility gives a better grasp of wireless's role, why it's there, and materials used that cause interference. That provides insight to make informed decisions on how to guide the project.
It's important to know what will survive in a particular environment. Is anything exposed to the elements? Is there dust? Water vapor? Is the environment highly reflective? If so, you have to plan for lower power levels and smaller cell sizes.
Industrial sites use heavy equipment that vibrates. Spec'ing hardware will take research to find equipment that will handle the vibration. There is no substitute for an on-site visit for any industrial wireless deployments.
Purpose of the deployment
There are several things to consider when you are getting started to really understand the purpose of the deployment, including:
Is this going to be machine-to-machine communication?

Is 802.11 even the proper protocol?

Do you want to look at something more proprietary to ensure the latency requirements for the data transmission will be met?
Make sure to use the radio type to survive any interference. You'll also need to know if you'll use frequency hopping to guarantee delivery from one end to the other.
Industrial deployments are unique settings, from the environment to the purpose for the deployment and the way you conduct an internet connectivity test. Knowing what's different, why it's different, and the correct tools to use are essential to a successful industrial Wi-Fi deployment.
Expert support at 7SIGNAL
If you want to stay updated on your network's status in real-time, wireless experience monitoring can help you identify the root cause of any issues and resolve them quickly. With 7SIGNAL Platform, you can constantly test your Wi-Fi, collect important data, and monitor how users are experiencing the connection at all times. If you're experiencing connectivity problems in certain parts of a building but not in others, materials-based interference might be to blame.
Contact 7SIGNAL to learn more.
7SIGNAL is the leader in wireless experience monitoring, providing insight into wireless networks and control over Wi-Fi performance so businesses and organizations can thrive. Our cloud-based wireless network monitoring platform continually tests and measures Wi-Fi performance at the edges of the network, enabling fast solutions to digital experience issues and stronger connections for mission-critical users, devices, and applications. Learn more at www.7signal.com.