Blog
A Data-Driven Comparison of Cisco and Aruba's RF Automation - Part 2
09/29/2016
In part 1 of our blog on RF automation, we began to compare Cisco and Aruba's RF automation features using 7signal's system of Sapphire Eyes and Mobile Eyes for Wi-Fi performance Management. We looked at power levels and channel balance. Today, we are going to continue our comparison by taking a closer look at channel stability, as well as air utilization.
We've labeled our vendors A and B so as not to spoil the fun of you guessing which is which based on their performance.
Air Utilization
RF automation should balance the number of SSIDs evenly across all channels. In addition, RF automation should consider overall channel utilization and minimize it by using channels carrying the least amount of traffic.
7signal's channel utilization measurement follows the channels that access points use at different times, and thus reports the actual utilization of a channel at any given time. Next we compare automated radio channel selection algorithms and channel utilization.
Vendor A - Floor 0 Channel Allocations and Resulting Air Utilization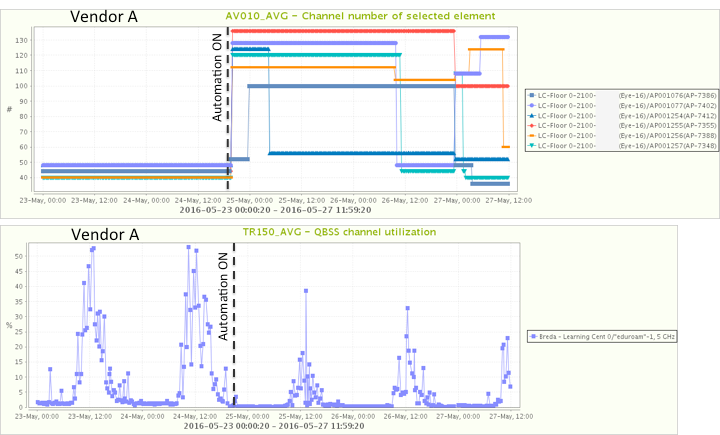 Vendor B - Floor 0 Channel Allocations and Resulting Air Utilization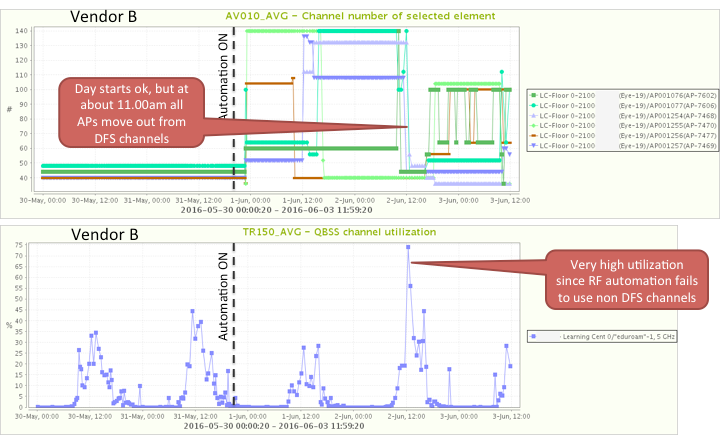 Vendor A - Floor 1 Channel Allocations and Resulting Air Utilization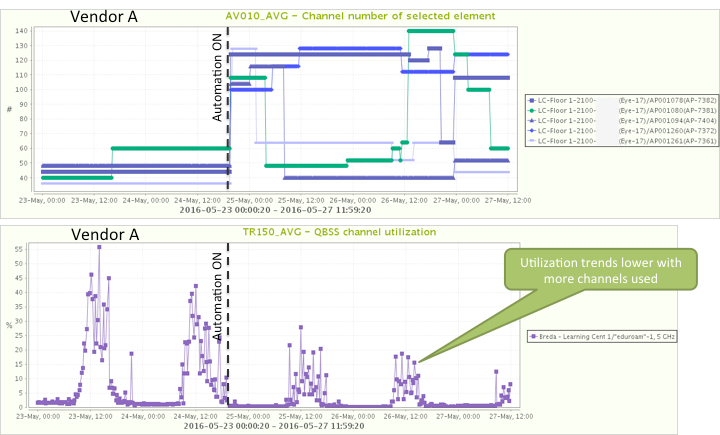 Vendor B - Floor 1 Channel Allocations and Resulting Air Utilization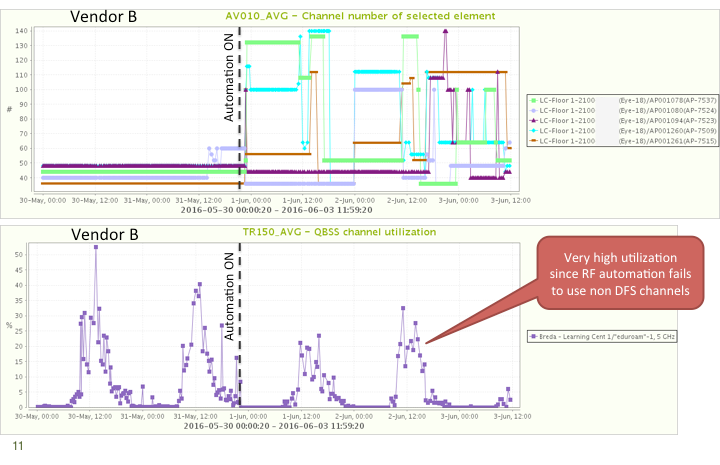 My Key Takeaways
A more balanced channel usage with Vendor A leads to clearly lower air utilization.
Vendor B's algorithm leads to higher average values and some very high utilization spikes.
Final Conclusions
There is a significant difference in how RF automation operates between two market leading vendors. Vendor A's algorithms clearly operate better than Vendor B's based on our data analysis.
Vendor B's algorithms end up using only part of the available channels, which leads to higher air utilization and significantly lower network capacity. Similar behavior is separately observed in both floors. At times, Vendor B's access points use only three non-DFS channels, even thought there were 19 channels enabled and available. Vendor A's channels remain the same while Vendor B's channels vary a lot in short period of time.
It's worth mentioning that it is very likely a static channel plan with evenly allocated channels would have resulted the lowest air utilization and best performance.
RF automation from Vendor A may provide some benefits, while Vendor B's product clearly does not operate properly. Vendors B's RF automation leads to a significant reduction in network capacity and degradation in end user experience.
One enterprise Wi-Fi network may cover hundreds if not thousands of access points, hundreds of buildings and serve tens of thousands of users. Now consider how many organizations have deployed products from Vendor B and run them in this same mode without better knowledge.
Tens of millions of people currently use this kind of Wi-Fi resulting in a poor end user experience and having a remarkably negative impact on productivity.
7signal provides Wi-Fi performance management products which allow for an understanding of the end user experience, network performance and enables proactive actions to enhance the network's effectiveness. Traditionally, Wi-Fi network operations have been reactive and mostly relying on end user complaints. However, now it's time for organizations to discard their reactive approach and adopt modern practices for managing their Wi-Fi.
So, can you guess who is Vendor A and who is Vendor B? Post your response!