Blog
How to Improve Wi-Fi Experiences That Aren't Caused by Bad Wi-Fi
05/19/2023
Subpar Wi-Fi quality isn't the only thing that causes connectivity issues. In this article, we explain how 7SIGNAL can help you uncover problems originating from network services and client devices.
Broadly speaking, Wi-Fi connectivity is composed of five pillars: roaming, coverage, congestion, interference, and connectivity. At 7SIGNAL, we specialize in helping our customers detect issues impacting each of these pillars and enabling them to enhance Wi-Fi experiences by addressing them in a timely and efficient manner.
Nevertheless, many connectivity issues originate from outside the realm of Wi-Fi. Two of the most common culprits are network services and client devices. In both cases, the 7SIGNAL dashboard can help you uncover these issues and develop a plan to address them.
Here's what we cover in this blog post:
Want to learn more about the 7SIGNAL platform? Chat with our sales team!
Uncovering Issues With Network Services
From a user's perspective, all connectivity failures are Wi-Fi issues. That is to say, when a user logs a failed Wi-Fi connection ticket, they generally won't be able to identify the root cause. Instead, they'll report simply that the Wi-Fi isn't working.
However, many connectivity failures originate from the peripheries — from network services or client devices. So, to get things started, let's look at two 7SIGNAL dashboards that enable you to monitor network services:
Performance Alarms
Performance Targets
Both of these dashboards can be used to monitor key performance indicators (KPIs) like Radio Attached Success (RAS), EAP Authentication Success, DHCP Success, and DNS Query Success.
Here's a brief refresher on each of these KPIs…
Key Performance Indicators (KPIs) for Network Services
Radio Attached Success (RAS)
This measures the success rate of a wireless device's attempts to attach to a wireless network or access point. It is a critical metric that determines the effectiveness of a device's wireless connection.
Extensible Authentication Protocol (EAP) Authentication Success
This measures the success rate of EAP authentication attempts on a wireless network. EAP is a widely used protocol that provides a framework for secure authentication of wireless devices. It is used to ensure that only authorized devices can connect to a wireless network.
Dynamic Host Configuration Protocol (DHCP) Success
This measures the success rate of a device's request for an IP address from a DHCP server on a network. DHCP is a protocol used to dynamically assign IP addresses to devices connected to a network.
Domain Name System (DNS) Query Success
This measures the success rate of a device's attempts to resolve domain names into IP addresses. DNS is a critical component of internet infrastructure that translates domain names into IP addresses that computers can use to communicate with each other.
Performance Alarms for Network Services
Now that we're all on the same page regarding the relevant KPIs, let's turn our attention to the dashboards! First up, the Performance Alarms dashboard. Here's a screenshot from the 7SIGNAL platform: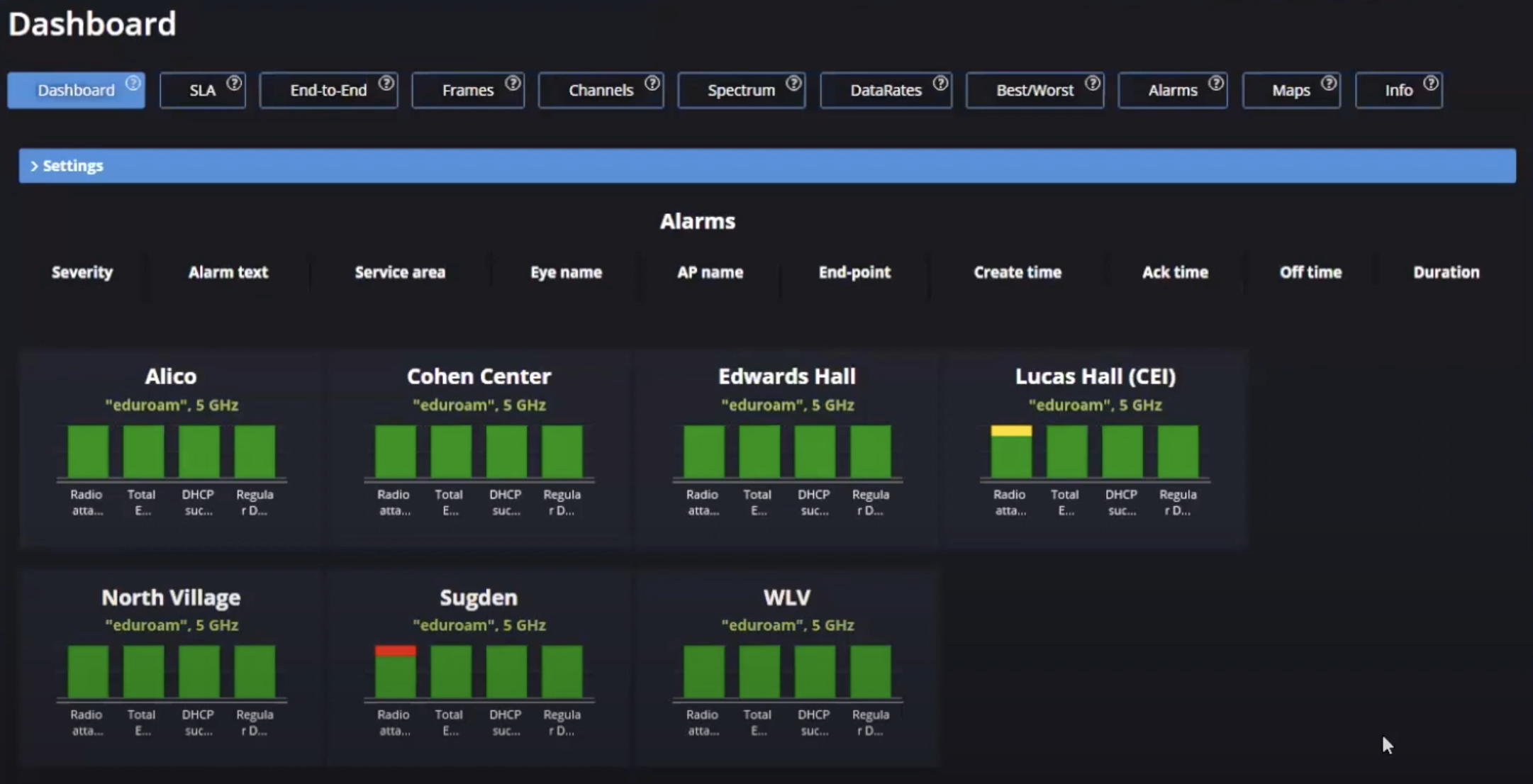 You can use this view to monitor the performance of crucial network services across your entire network, and configure alarms that notify you when they fail to work properly.
In addition, if users report problems on your network, you can use this dashboard to review KPIs and see if any network services may be causing a snag in the connection process. DHCP Success provides a good case in point. If the DHCP server is unreachable, you'll be able to spot it in real-time and make the necessary adjustments.
Performance Targets for Network Services
Next up, the Performance Targets dashboard. This enables you to see whether your network services are meeting predefined KPI targets on a day-to-day basis. Check it out: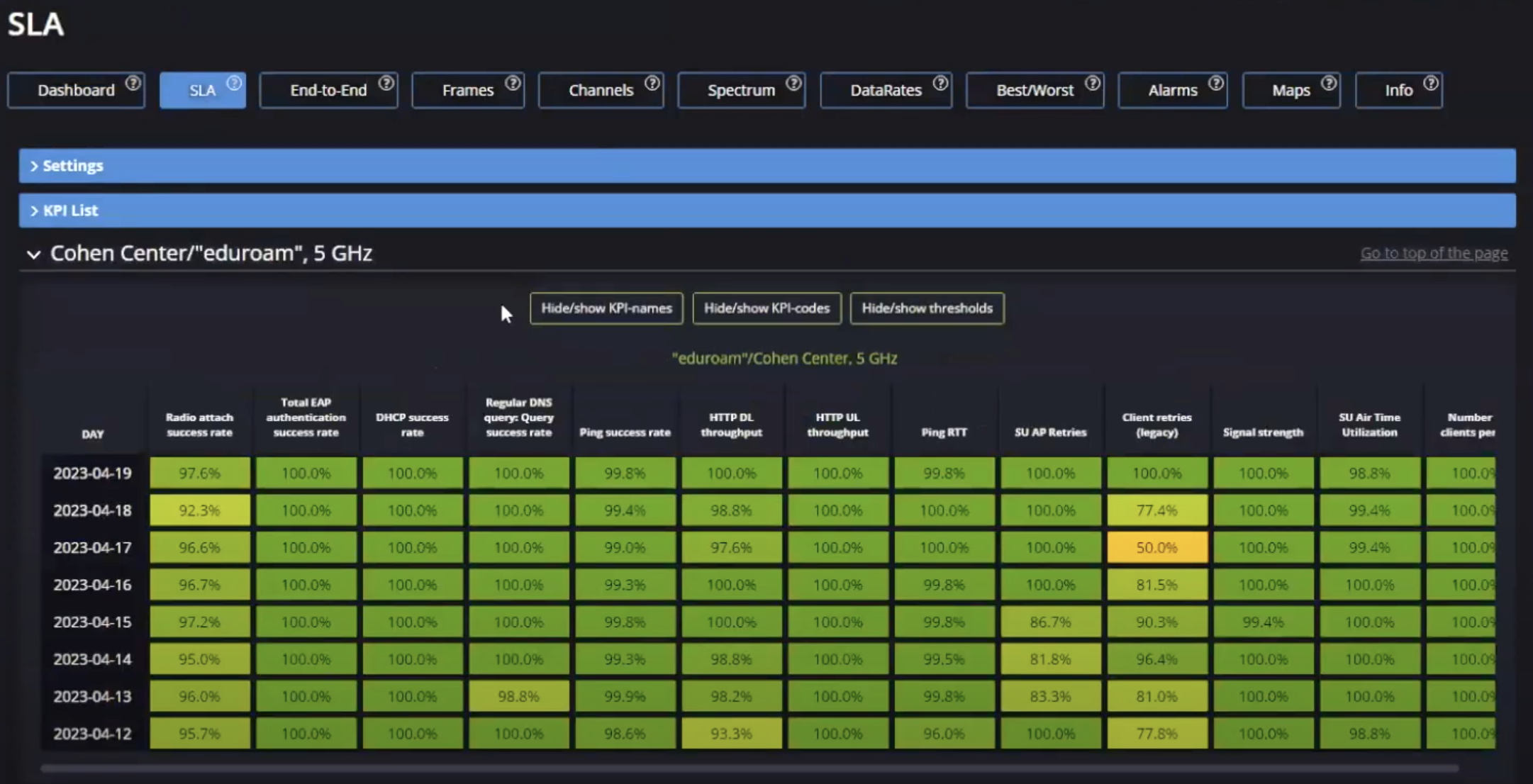 As with the Performance Alarms dashboard, this dashboard tracks KPIs like Radio Attached Success, EAP Authentication Success, DHCP Success, and DNS Query Success. In addition, it enables you to see whether users are able to get onto the network and ping. This enables you to track potential issues, such as those affecting particular access points that people can't connect to.
Access point issues can be particularly difficult to catch because performance targets may not indicate anything is wrong. Typically the response in such instances is to reboot the access point and hope the problem goes away. But with 7SIGNAL, you'll be able to identify the specific problem and address it with precision.
Uncovering Client-Side Issues
The last thing we'll cover are issues stemming from client devices. Unsurprisingly, these devices play a huge role in Wi-Fi experiences. Since they're proprietary technologies built by different companies at different times, they vary in a number of important ways with regard to their behavior on Wi-Fi networks.
To track issues on the client side of things, 7SIGNAL offers the Client Adapters dashboard. Check it out:
With the 7SIGNAL Client Adapters dashboard you can keep an eye on how many different types of clients access your network and how they perform.
In the image above, for example, you can compare how various Intel and Microsoft adapters behave on the same network. It shows that older adapters have the most issues, new Wi-Fi 6 adapters perform best, and that there are a wide variety of versions connecting to this network. This information can be used to identify problematic adapters, make informed device acquisition decisions for your organization, and more.
Conclusion
In order to assess the quality of your Wi-Fi network, you need a holistic view of your organization's system. If your protocol is robust and everything on the Wi-Fi side seems to be in working order, there's a good chance something is malfunctioning on the periphery. Network services and user devices are the most common causes. In any case, you can use the 7SIGNAL platform to home in on the problem and act accordingly.
Rather watch a video on this subject?
Learn More From the 7SIGNAL Experts
We're always here to answer your Wi-Fi questions at 7SIGNAL. Our enterprise Wi-Fi optimization platform helps you plan and execute a healthier network. Contact us to learn more.
7SIGNAL® is the leader in enterprise Wi-Fi optimization, providing insight into wireless networks and control over Wi-Fi performance so businesses and organizations can thrive. Our cloud-based platform continually tests and measures Wi-Fi performance at the edges of the network, enabling fast solutions to digital experience issues and stronger connections for mission-critical users, devices, and applications. Learn more at www.7signal.com.