Blog
Remote Work is the New Normal
08/25/2020
Network engineers are tasked with supporting employees' new way of life during the pandemic—telecommuting. Learn how it's already impacting the way we work and why it's likely here to stay.
The COVID-19 pandemic has completely changed the way workplaces operate around the globe. More employees and businesses are adapting their workflows to a remote environment. This places new demands on network managers since employees that were once part of a secure office Wi-Fi network are now using their personal devices, modems, and ISPs.
While telecommuting isn't entirely new for many businesses, its scale is—and numerous employees will continue working remotely long after the pandemic is over. Network managers should be proactive about addressing the resulting challenges that are likely here to stay.
The state of remote work
Hundreds of companies across the nation have created policies specific to COVID work-from-home initiatives, and some of these plans continue well into 2021—or indefinitely, according to Lifehack.io. Not only are companies shifting remote because of the pandemic, but they're fundamentally adapting workflows for long-term changes.
Some of the nation's largest companies are embracing these transitions. Twitter has said that any employee who wants to continue working remotely can do so indefinitely, and Facebook expects that half of its employees may be telecommuting within the next five to 10 years.
According to Stanford University data, 42% of the U.S. labor force is working from home full-time. And 72% of office employees want to work from home at least a couple days per week, according to PwC.
Working remotely creates new challenges for employees, like ensuring they have high-performing Wi-Fi as well as an isolated, quiet place to work. Metova data shows that 68% of remote workers share a household with other telecommuters, which can cause a lot of distractions.
But remote teams still look to be a lasting trend, especially as companies evaluate reduced overhead and discover just how productive these new work environments can be.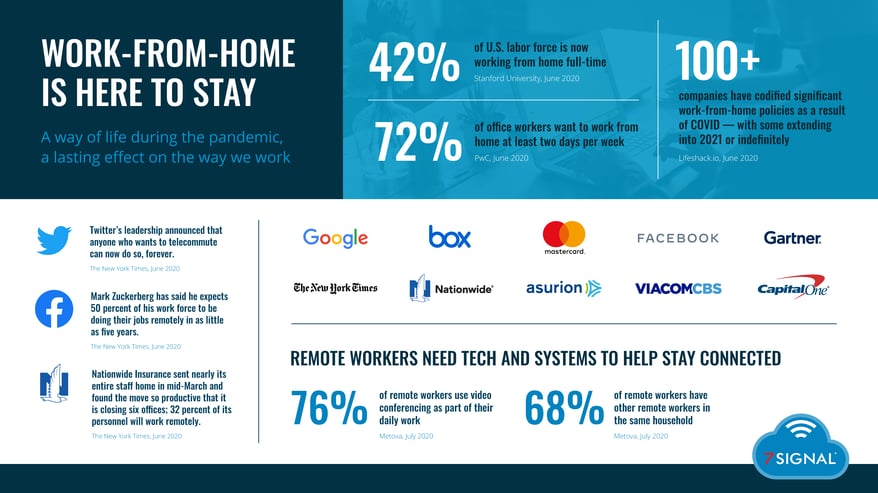 Various reports and research show the durability of remote work. Click on this infographic to see a larger version.
Are remote teams more productive?
Some companies find that their performance numbers improve as more workers go remote. For example, Nationwide Insurance decided to close six of its offices because it had so much success after the stay-at-home orders in March. Moving forward, 32% of the insurance company's workforce will be remote.
Gallup research has shown that remote work can, perhaps surprisingly, increase employee engagement, which can increase profitability by 21%. Driving this higher engagement, in addition to increased work satisfaction, is the flexibility that telecommuting provides employees. They can better align work with their personal schedule rather than what's going on in the office.
Also boosting productivity is the fact that many remote workers are more focused on meeting their targets and getting their tasks done, rather than socializing with coworkers or attending numerous in-person meetings that eat up valuable time.
The tools used by remote workers
According to Metova's research, 76% of telecommuters are using video conferencing tools. Popular options are Zoom, Skype, Google Hangouts, GoToMeeting, Microsoft Teams, FaceTime, and more. And some of these tools are integrated with other features like phone and chat functions that teams rely on for collaboration. Slack and Skype for Business are commonly utilized by remote teams to stay in touch throughout the day via instant chat.
In addition to these communication tools, teams are integrating more cloud-based platforms, content management systems, and storage solutions into their workflows. This allows employees to access company documents and software from anywhere they have an internet connection. But using them successfully hinges on consistent wireless networks, which usually comes down to the workers' home Wi-Fi set-up.
Remote work and the challenge for network managers
A network manager's biggest challenge in this new environment is troubleshooting and supporting employees' home networks. Workers will be using a variety of devices and connection hardware, many of which may be outdated or otherwise not up to company standards. Home Wi-Fi networks in variable ISP packages and speeds may not be equipped to handle the applications and platforms that employees have to use from their home offices.
To combat these issues, network engineers can rely on a solution like Mobile Eye® from 7SIGNAL. Mobile Eye is installed on client devices and provides visibility into how home networks are performing. Engineers can view data from this equipment in a simple dashboard, including signal strength and data transmission speeds.
Mobile Eye helps network managers solve the most common home Wi-Fi issues, including:

Interference issues (co-channel and adjacent channel)

Roaming issues

Congestion

Lack of coverage

Problems with poor adapter and driver combinations
7SIGNAL's wireless network monitoring solutions provide the tools to manage a remote team better and keep everyone connected. Reliable home Wi-Fi is and will remain vital as businesses adapt to the new normal. And true visibility into this disparate web of personal networks is a crucial step in ensuring continued productivity as more teams telecommute.
Related read >>> Troubleshooting Home Wi-Fi Issues
7SIGNAL® is a leader in Wireless Experience Monitoring. The 7SIGNAL platform is a cloud-based Wi-Fi performance management solution that continuously monitors the wireless network for performance issues—maximizing network uptime, device connectivity, remote worker productivity, and network ROI. The platform was designed to support the Wi-Fi management needs of the world's largest organizations, educational institutions, hospitals, and government agencies. 7SIGNAL continuously monitors the connectivity of over 5 million global devices. Learn more at www.7signal.com.