Blog
The Story Behind the EyeQ Executive Dashboard
11/17/2015
At 7signal we faced a challenge – our Sapphire Wi-Fi Performance Management System makes a lot of measurements and performs an abundance of tests in order to analyze the end-user Wi-Fi experience.

The measurements and test results are captured as Key Performance Indicators (KPIs). The system can track over 600 KPIs, which is great if you are a Wi-Fi engineering specialist, but a little overwhelming if you are a network engineer responsible for many parts of the network, of which Wi-Fi is just one part, or if you are the CIO wanting to understand at a high level how your network is performing.
So with the help of our customers we developed the EyeQ Executive Dashboard as part of Release 5.3 of Sapphire (see press release). The goal of EyeQ is to enable anyone interested in enterprise Wi-Fi performance to quickly ascertain the overall health of the network and provide the starting place to quickly resolve issues proactively before people complain. The question was how to get the required information on one page in a logical format.

The answer was to consolidate the important KPIs for the four major areas in which networks must perform well in order to consistently deliver a reliable, quality Wi-Fi experience for every user:
Connectivity
Authentication
IP Services
Quality
Let's look at each of these "Macro KPIs" in more detail.
Connectivity is the process of seeing beacons from an Access Point (AP), successfully attaching to the AP and performing data transfers reliably. In most networks the connectivity should be 100% at all times during the day and night; When it isn't, the component KPIs that roll up to the connectivity macro KPI reveal what part of connectivity is failing and why.
Authentication can be a simple exercise or very complex, depending on the network. In addition to the basic handshake between the client and AP that verifies the encryption method being used, many enterprises deploy Radius servers as part of the authentication process, and often captive portals are used too. We track over a dozen component KPIs which roll up to the authentication macro KPI.
IP Services measure the network's ability to provide the client an IP address via a DHCP server. DHCP process is multi-stage process, so it is important to capture what is happening at each step along the way. We will continue to add component KPIs in this area to ensure the entire end-to-end experience is being measured.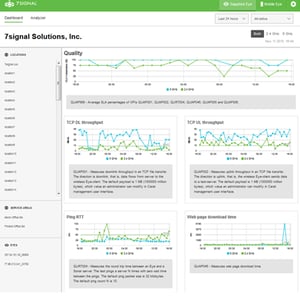 Quality measures the client's user experience when using the network. Quality is a summation of throughput, delay, web access and voice quality compiled during background synthetic tests. Quality is where the rubber hits the road, and issues such as congestion, interference and dead zones are exposed.
A quick glance at the EyeQ dashboard provides critical information on how these four Macro KPIs are trending against acceptable performance thresholds. From the high-level view, the operator can drill down into component KPIs to quickly ascertain what is impacting performance. The information is organized in an intuitive hierarchy so operators can understand what is happening at a campus, building or floor level. Trends over user selectable time periods, which is critical to understand when and why issues may seem to come and go, is provided for each macro and component KPI.
I've been pleased with the reaction so far by customers who have seen EyeQ. They appreciate being able to measure, trend and analyze all aspects of the Wi-Fi user experience, not just RF metrics. This initial rollout of EyeQ is the latest step in our strategy to make wireless performance management easy to use and scale as Wi-Fi becomes the dominant way to access the network.