WifiTrek 2016 from New Orleans has come to a close, but not before some incredible presentations from innovative professionals and vendors and took the stage and dazzled us with their Wi-Fi knowledge and wisdom. WifiTrek is hosted by CWNP, the organization responsible for training and certifying Wi-Fi network engineers. The annual gathering brings industry experts together to discuss wireless topics and trends affecting the industry and our businesses.
7signal participated in the event as a sponsor and speaker in Thursday afternoon's breakout session. On the vendor expo floor, founder and CTO Veli-Pekka Ketonen demonstrated the power of Wi-Fi performance management, which was a popular topic at this years' conference. Many came to listen to how measuring the end-user experience could only truly come from measuring actual end-user clients. 7signal achieves this with its own high-performance client devices called Sapphire Eyes, in addition to its agent software which resides on iOS and Android devices.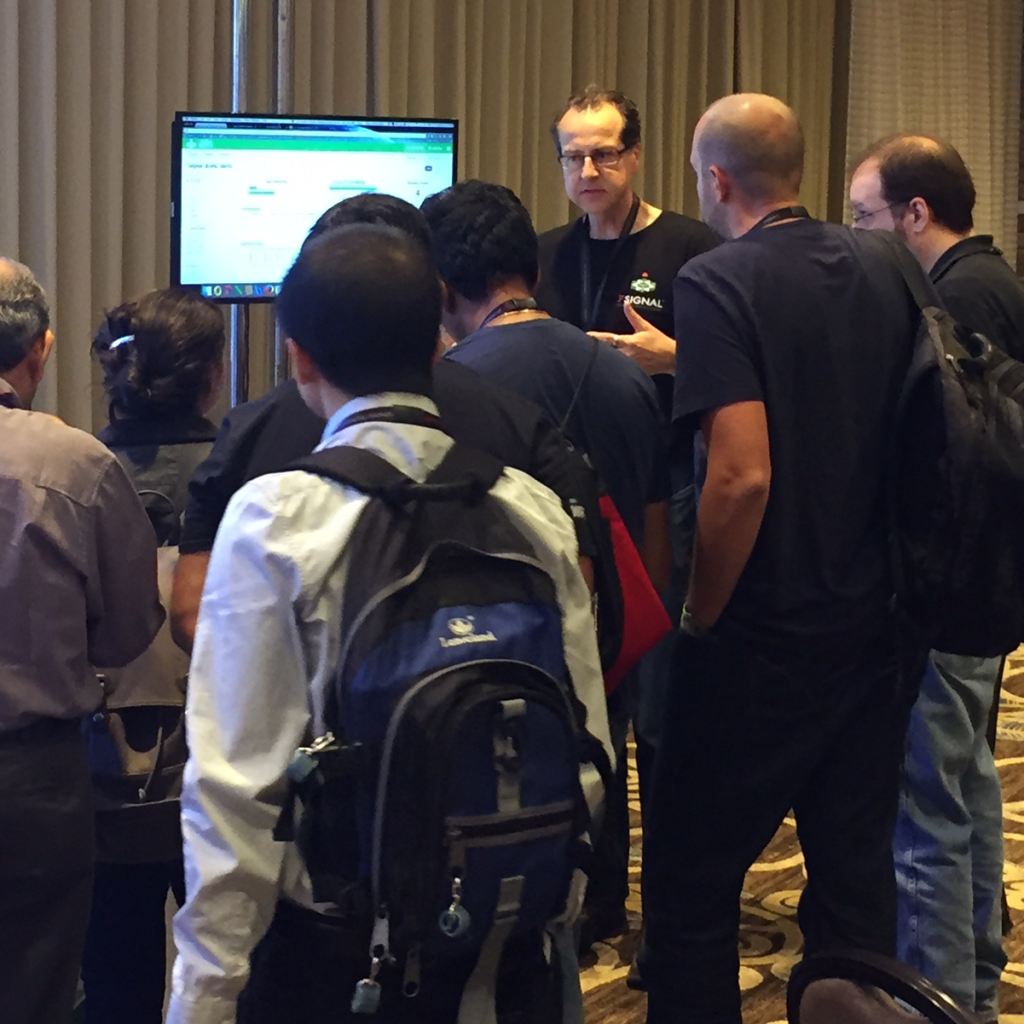 When it was time for our breakout session, the room filled up with those both wise and simple in the ways of Wi-Fi performance management. We requested that the room download our Mobile Eye app from the App Store or Google Play and begin testing the Wi-Fi immediately. Those tested the Wi-Fi would be entered to win T-shirts and stickers. VP took the stage to discuss Wi-Fi performance "bake-off" results offered to us by our customer, Avans University. RF automation comparisons were made between Cisco and Aruba. You can read all about the tests and the results in VP's 2-part blog here.
Then the presentation turned to 7signal's Mobile Eye app. It was a bit of a risk to try a live demo on the spot, but we were very confident in our EyeQ Cloud platform and knew it could be depended upon. So we logged into https://eyeq.7signal.com and wow, did we see some amazing Wi-Fi performance results from the conference room. The audience was able to immediately see their individual device performance and compare it to others in the room. We could see the device types, access points to which they were connected, and the quality of the Wi-Fi experience. The point was made during the presentation that soon CWNE's won't have to walk around with tools anymore. Instead, Wi-Fi performance data and analytics will be brought to them from the four-corners of their global organizations through Mobile Eye. One gentleman in the audience yelled, "This is awesome!" in a gleeful demonstration of approval.
The Wi-Fi experience is more important today that ever before, and according to our unscientific research, client issues consist of 70% of all Wi-Fi trouble tickets. So...the time is now for client performance management.