Press
7SIGNAL Software Reveals Roaming Journey of Mobile Devices
04/16/2018
Today 7SIGNAL, The Wi-Fi Performance Company, is pleased to announce the latest version of its SaaS-based Mobile Eye™ product for laptops, tablets, and smartphones. Mobile Eye software crowdsources wireless performance data from devices and reports Wi-Fi user experiences back to the cloud for analysis. The Mobile Eye 2.0 platform includes new analytics for identifying devices on the Wi-Fi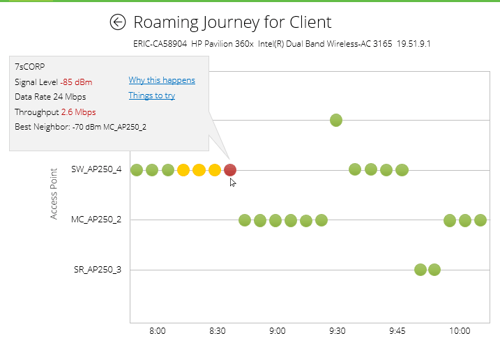 network that perform poorly due to legacy wireless adapters and software drivers. Additionally, Mobile Eye will identify devices that fail to successfully roam from one wireless access point to the next, resulting in lower signal strength and slower throughput speeds that ultimately affect worker productivity or the customer experience.
"Apple, Dell, Lenovo, Spectralink, Zebra…those devices all use a variety of wireless adapters in conjunction with proprietary software to govern how they connect and roam on Wi-Fi networks," stated Russ Wangler CTO for 7SIGNAL. "Our customers have thousands of devices under management and they continually tell us how difficult it is to identify the devices and configurations that are the best and worst Wi-Fi performers. Mobile Eye solves this problem."
In manufacturing facilities and distribution centers, Mobile Eye crowdsources Wi-Fi performance data from scanners and pickers. In hospitals, Mobile Eye provides Wi-Fi telemetry for the workstations on wheels that nurses and clinicians use to provide patient care. In large enterprise organizations, Mobile Eye watches over workers' laptops as they roam between conference rooms and office spaces.
In addition to proactively identifying devices that are impacting personal productivity and operational efficiency, Mobile Eye offers deeper analysis by recording the roaming history of each wireless device throughout the day. "It's hard to pinpoint when, where, and why client devices get stuck on the Wi-Fi network," Wangler further stated. "Mobile Eye introduces the idea of mapping a client's roaming journey to track when an individual's device should have roamed to a neighboring access point to achieve the best performance. By traversing a client's roaming journey, you not only shed light on device issues, but also on Wi-Fi network design issues."