Press
The Christ Hospital Health Network Deploys 7SIGNAL to Improve Wi-Fi Experiences for Patients, Guests, and Staff
02/22/2018
7SIGNAL, The Wi-Fi Performance Company, is pleased to announce that The Christ Hospital Health Network has completed the first phase of its deployment of 7SIGNAL's Wi-Fi performance management system for enhancing Wi-Fi experiences across its network. The solution includes a system of software and client devices that continually monitor and measure Wi-Fi experiences for patients, doctors, nurses, clinicians, and guests. Wi-Fi performance data is crowdsourced from hundreds of mobile devices and 7SIGNAL analytics tell IT staff where Wi-Fi experiences need additional care and attention.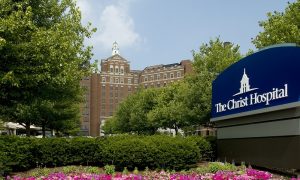 Recognized as one of the top 50 hospitals in America by U.S. News & World Report for the past 17 years, The Christ Hospital Network's purchase of 7SIGNAL aligns with the second pillar of the hospital's vision of being a national leader in clinical excellence, patient experience, and affordable care.
"The patient experience depends on doctors, nurses, and clinicians having reliable Wi-Fi for fast access to important systems required for delivering exceptional care," stated Tom Barrett, CEO for 7SIGNAL. "It's wonderful to see Christ Hospital incorporate our system of Wi-Fi telemetry for hospitals and healthcare."
According to James Vajda, Senior Wi-Fi Engineer for The Christ Hospital Health Network and Certified Wireless Network Expert, the most important wireless enabled application is Voice over Wi-Fi. "We have about 1,000 Cisco 7925 phones and their performance can be sensitive to any RF disruptions. We use those for critical business processes in the hospital. We also have workstations on wheels (WOWs) that we run Citrix clients on, where the EMR application is served. Those are constantly moving up and down the halls and need good wireless performance also."
Christ Hospital deployed 7SIGNAL's Mobile Eye™ software for its WOWs to capture Wi-Fi experiences on mobile devices.
"Mobile Eye has been great. One of the challenges I've had is a lack of standardization in the adapters and drivers that were installed in the WOWs. So we might get reports that the Wi-Fi is poor in this corner of this wing, and we'd go and everything is fine," Vajda explained. "The actual problem was that the WOW had an old adapter with bad drivers. You know the blame always goes to the infrastructure, so having Mobile Eye really helped make the case that we need to standardize. It shows that some of the adapters we are using are roaming poorly and that's affecting the business. And that was the ammunition we needed to say ok, let's upgrade the hardware with the stuff the 7SIGNAL data says works a lot better."
In addition, the hospital deployed 7SIGNAL's high-performance clients, called Sapphire Eyes™ in the Emergency Department, and other clinical areas where wireless problems seemed to be the most elusive. Sapphire Eyes monitor Wi-Fi experiences 24 hours a day, seven days a week and automatically report issues relating to connecting, authenticating, voice quality, throughput speed, and interference in the air.
Phase two of the project will include Sapphire Eye coverage in both main hospitals, as well as enterprise-wide Mobile Eye deployment.