Press
Mobile Eye Wins 2018 Cloud Computing Product of the Year
07/9/2018
7SIGNAL is proud to announce that it's Mobile Eye product for crowdsourcing Wi-Fi experiences has been named a winner of TMC's Cloud Computing Product of the Year for 2018. TMC is a global, integrated media company helping clients build communities in print, in person and online. The Cloud Computing Product of the Year Award honors vendors with the most innovative, useful, and beneficial cloud products and services that have been available to deploy within the past year.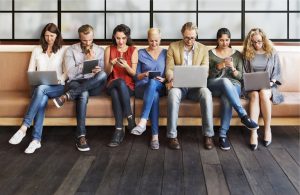 Mobile Eye runs as a service on Windows, macOS, and Android devices throughout an organization. The Wi-Fi performance of each device is gathered at specified intervals and sent to 7SIGNAL's cloud platform for analysis. The result is unprecedented visibility into actual Wi-Fi experiences people feel when using the wireless network. "For example, when nurses and clinicians use their workstations on wheels in hospitals to dispense and track medications for their patients, they need highly reliable Wi-Fi," stated Tom Barrett, president and CEO of 7SIGNAL. "Mobile Eye monitors and records their experience so that network admins have the insight they need to address performance issues proactively...or have everything they need to help people if they call to report a Wi-Fi issue."
For more than 20 years, TMC has been honoring technology companies with awards in various categories. These awards are regarded as some of the most prestigious and respected honors in the communications and technology sector worldwide. Winners represent prominent players in the market who consistently demonstrate the advancement of technologies. Each recipient is a verifiable leader in the marketplace.
Mobile Eye software is provisioned with tools such as Microsoft's SCCM or VMWare's Airwatch solution for mobile device management. "You can roll out Mobile Eye to ten thousand devices in just minutes and each device authenticates to our cloud with OAuth2 over HTTPS," said Russ Wangler, Chief Technology and Product Officer for 7SIGNAL. "It's a simple, light-weight, and secure solution with huge impact for helpdesk and network administrators who are frustrated with chasing invisible Wi-Fi issues."
TMC's Cloud Computing magazine is the industry's definitive source for all things cloud - from public, community, hybrid and private cloud to security and business continuity, and everything in between. It's quarterly magazine published by TMC that assesses the most important developments in cloud computing not only as they relate to IT, but to the business landscape as a whole.