Press
Panera Bread Rises to the Top in PCMag.com's List of Fastest Free Nationwide Wi-Fi of 2018
01/14/2019
Panera Bread Rises to the Top in PCMag.com's List of Fastest Free Nationwide Wi-Fi of 2018
84% of fast casual customers say Wi-Fi is an important feature of restaurant technology. Wireless network of 7SIGNAL customer, Panera Bread among millions of crowdsourced tests orchestrated by PCMag.com to find best places to enjoy the internet while you eat, drink, and shop.
Cleveland, OH –7SIGNAL®, the leader in enterprise Wireless Network Monitoring (WNM) today announced that its customer, Panera Bread® , was recently recognized by PCMag.com for having one of the fastest free nationwide Wi-Fi networks. The survey was the first of its kind which leveraged a partnership with Ookla Speedtest.net's database of millions of crowdsourced tests.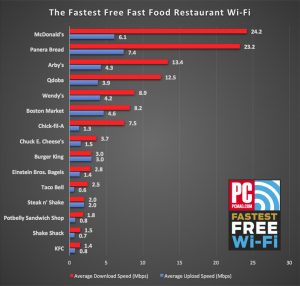 According to The Fastest Free Nationwide Wi-Fi of 2018, published by Sascha Segan, PCMag.com's lead mobile analyst, Panera Bread was the second fastest network out of thousands tested. Segan also referred to the restaurants as "more convivial for settling in" and are a "great alternative [to competitors] if you're trying to get work done."
Segan's article went on to say that "according to Statista, 84 percent of US consumers said Wi-Fi was a "very or somewhat important feature of restaurant technology."
"Congratulations to Panera Bread's leadership for this honor and for listening to the market and understanding what customers want; and to their Wireless Engineers for installing the most advanced infrastructure for delivering and monitoring fast, dependable, mission-critical Wi-Fi," said Tom Barrett, CEO at 7SIGNAL.
About 7SIGNAL
7SIGNAL®is a leader in enterprise Wireless Network Monitoring. The 7SIGNAL platform is a cloud-based Wireless Network Monitoring (WNM) solution that continuously tests the wireless network for performance issues - maximizing network uptime, device connectivity and network ROI. The platform was designed for the world's most innovative organizations, educational institutions, hospitals and government agencies and is currently deployed at Booz Allen Hamilton, IBM, Kaiser Permanente, Walgreens, Microsoft and many others. 7SIGNAL continuously monitors the connectivity of over 4 million global devices. Learn more at www.7signal.com.
###