Blog
Why the Mobile Eye® is an Effective Wi-Fi Monitoring Solution for Hospitals
06/16/2021
Hospitals require continuous wireless network monitoring so that they never experience unplanned downtime
Key takeaways:
Hospitals rely on strong Wi-Fi to track patients' vitals, gather real-time information, and ensure quality care
Top ways that the Mobile Eye helps hospital Wi-Fi:


43% reduction in network-related unplanned downtime
59% less Wi-Fi troubleshooting time
3,000+ productivity hours gained back per year across an enterprise
20% fewer help desk calls

Case studies: three hospital networks were improved substantially with 7SIGNAL
The modern hospital comprises many devices that communicate, collaborate, and help caregivers deliver the best services possible. Strong, reliable Wi-Fi is thus a crucial component of an effective, efficient healthcare organization.
Hospitals can significantly improve their Wi-Fi networks by deploying a wireless network monitoring solution. Patient safety and outcomes are enhanced when there is zero network downtime, issues can be diagnosed and addressed in real-time, and there is 24/7 visibility into what the end-user is experiencing.
So, exactly how can hospitals reduce network downtime to provide better care?
The importance of strong Wi-Fi for hospitals
Healthcare organizations must stay connected. The performance level hospitals need requires a focus on how the end-user is experiencing the Wi-Fi at a given moment. The Internet of Things (IoT) is prevalent in facilities, with many different medical and mobile devices moving throughout the network area, taking vitals, communicating with one another, and delivering critical information to doctors and nurses.
Hospital patients have three to six devices attached to them, on average, which are continuously checking vitals and alerting medical professionals to changes. This equipment depends on a network connection that never fails.
Not only does a robust and consistent connection keep patients safe, but it also saves medical organizations time and money—up to $300,000 per hour, which is how much network downtime can cost a hospital.
Modern hospitals simply can't operate well without a solid wireless network connection. Fortunately, there are ways to achieve it.
How the Mobile Eye helps hospitals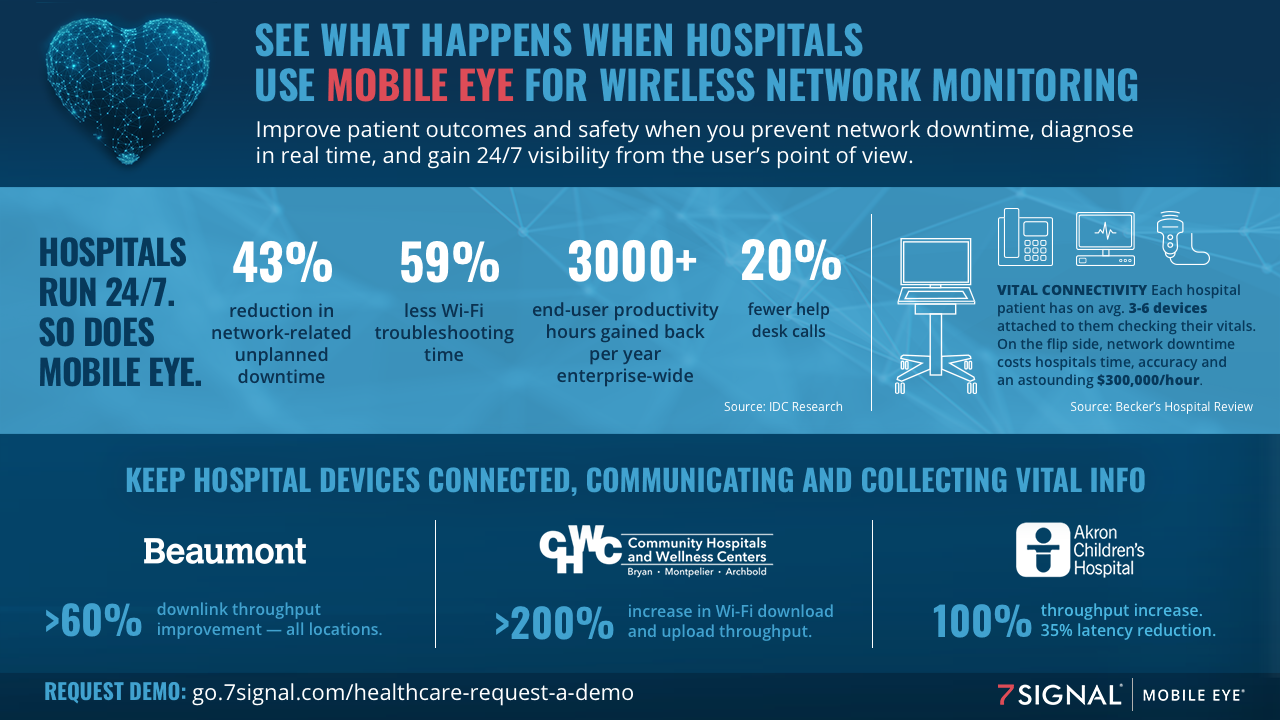 The Mobile Eye® from 7SIGNAL is the first-ever Wi-Fi performance agent for mobile devices. This SaaS application can be installed on any device, and it continuously runs both passive and active tests on the Wi-Fi so that managers know what the user is experiencing moment-by-moment. This knowledge allows them to ensure the network performs to standards.
Research conducted by IDC Research about the Mobile Eye found that organizations can experience the following benefits from incorporating it into their wireless network management strategy:
43% reduction in network-related unplanned downtime
59% less Wi-Fi troubleshooting time
3,000+ end-user productivity hours gained back per year across the enterprise
20% fewer help desk calls
These improvements are possible because of the Mobile Eye's ability to provide detailed visibility into the network performance on end-user devices.
Other wireless network monitoring tools from 7SIGNAL contribute to improved hospital Wi-Fi as well. The Sapphire Eye® is an onsite Wi-Fi sensor and software client that enhances connections, digital experiences, and smart network design, supporting fast troubleshooting and continuous testing of the user experience.
Examples of 7SIGNAL in action at hospitals
Let's look at a few hospitals that saw big impacts from using these solutions to monitor their wireless networks:
1. Beaumont Health System
Detroit's Beaumont Health System is a major healthcare system for the region. It had persistent Wi-Fi issues, including connectivity and performance. Staff recognized that something had to change since the network was critical to care delivery. 7SIGNAL helped them turn things around, and they saw a 60% improvement in downlink throughput across all locations.
2. Community Hospitals and Wellness Centers
One major requirement for a hospital network is fast uploads and downloads. Information must be gathered and shared seamlessly for care to be delivered properly. For Community Hospitals and Wellness Centers, this was a big issue. After it started using 7SIGNAL's solutions, the organization saw a 200% increase in Wi-Fi download and upload throughput.
3. Akron Children's Hospital
This very large children's hospital saw significant improvements using wireless network monitoring solutions from 7SIGNAL. The hospital previously dealt with frustrating challenges like poor Wi-Fi quality and the inability to maintain a consistent connection. With the improved visibility provided by 7SIGNAL's sensors, the facility saw a 100% throughput increase and a 35% latency reduction.
These hospital use cases show just how effective the right monitoring solutions can be. And in a time when care is dependent on connections, it's more important than ever for managers to ensure consistently high-performing networks.
Learn more about Wireless Network Monitoring from 7SIGNAL
The Wireless Network Monitoring platform from 7SIGNAL allows caregivers to focus on patient outcomes instead of worrying about the Wi-Fi. Find out more about how the solutions from 7SIGNAL like the Mobile Eye and Sapphire Eye can help your healthcare organization focus on what matters.
7SIGNAL® is a leader in enterprise Wireless Network Monitoring. The 7SIGNAL platform is a cloud-based Wireless Network Monitoring (WNM) solution that continuously troubleshoots the wireless network for performance issues – maximizing network uptime, device connectivity, and network ROI. The platform was designed for the world's most innovative organizations, educational institutions, hospitals, and government agencies and is currently deployed at Booz Allen Hamilton, IBM, Kaiser Permanente, Walgreens, Microsoft, and many others. 7SIGNAL continuously monitors the connectivity of over 4 million global devices. Learn more at www.7signal.com.